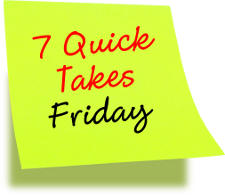 Some random thoughts or bits of information are worthy of sharing but don't warrant their own full post. This idea was started by Jennifer Fulwiler at Conversion Diary to address this blogging need. So, some Fridays I too participate when I have accumulated 7 worthy items. Without further ado: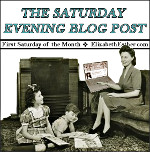 Elizabeth Esther kindly hosts a feature she calls The Saturday Evening Blog Post. Published monthly every first Saturday, it features the best post in the preceding month on each of a few dozen Christian blogs. The "best" entries are chosen by the authors themselves (so they should know!).
It is a great way to discover new blogs. Be sure to check-it out. My entry last month was the burden of hate.
Catholics Come Home produces powerful television and web spots explaining the Catholic faith. I am a big fan and include 4 of their pieces on my Favorite Videos page (see the button in the blog header). Here is their latest:
The men and women of our Armed Forces sacrifice a lot to serve their country. They don't all come home. Every minute they are gone and in harms way, their loving families carry a heavy burden. Imagine how they feel when unexpectedly, they are reunited with their soldier. That moment when the fears and worry can at last be put aside and they can pull their loved one close.
Thanks to Marcel over at Aggie Catholics for finding this.
Following in the ways of Saint John Bosco (19th century Italian Priest), Father Zoltan Lendvai (45) reaches Hungarian youth through his skateboarding skills. You don't see this every day…
Thanks to Tom Peters over at CatholicVoteAction.org for this one.
Why do men choose to become priests? Watch…
(click here for part 1)
Pray for our Protestant brothers and sisters. All of their main denominations are facing internal struggles between progressive and orthodox (liberal vs. conservative, if you prefer) divisions. The ELCA (the largest US Lutheran denomination) tilted last year in the strongly "progressive" direction. Listen to Lutheran Pastor Tom Brock's explanation in this video (and part two). May the Holy Spirit guide them to the truth.
Today's quote:
All the good works in the world are not equal to the Holy Sacrifice of the Mass because they are the works of men; but the Mass is the work of God. Martyrdom is nothing in comparison for it is but the sacrifice of man to God; but the Mass is the sacrifice of God for man.