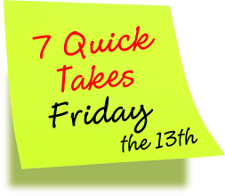 This week: The latest issue of New Evangelists Monthly awaits your perusal. Fr. Mike Schmidt contrasts "freedom" with "license". Fr. Bill Byrne picks his top 5 amazing things about purgatory. Brian Holdsworth answers "do Catholics know Jesus?" Chris Stefanick looks at the pursuit of happiness. Matt Walsh reminds us what marriage is (vis-a-vis the "royal wedding"). How false self-esteem building is self-defeating.
Issue #67, July 2018, of New Evangelists Monthly is ready for your enjoyment! Scores of faithful Catholic bloggers have contributed their very best pieces from May. Contributing authors this month include: Fr. Stephen Morris, Stephen Korsman, Fr. Ben Hadrich, Aimee O'Connell, Kathleen Laplante, Melanie Jean Juneau, Robert Collins, Carolyn Astfalk, Kirby Hoberg, Elizabeth Reardon, John Schroeder, Matt Marks, Blythe Kaufman, Michael Seagriff, David Wanat, Virginia Lieto, Larry T, Tom Perna, Claire McGarry, Tony Agnesi, Fr. Joseph Mungai, Fr. John Paul Shea, Fr. Chori Jonathin Seraiah, David Wong, Matthew Rose, Vijaya Bodach, Frank Rega, Victor Moubarak, Lisa Laverty, Rich Maffeo, Roxane Salonen, David Torkington, Rick Becker, Fr. Errol Fernandes, Bartimaeus Timeo, Susan Stabile, Leslie Klinger, Barbara Szyszkiewicz, Jennifer Elia, Mike Landry, Christian Miraglia, Jean Heimann, Fr. Richard DeLillio, Rick Rice, Christina Nagy, Thomas Cruz-Wiggins, Mary Cooper, Birgit Jones, Lisa Ponchak, Bonnie Way, Larry Peterson, Scott Smith, Ellen Gable Hrkach, Ebeth Weidner, Fr. Gilles Surprenant and Julian Barkin.
This monthly "meta-magazine" showcases faithful Catholicism from theology to family life and "everything in between." Enjoy it now at NewEvangelists.org.

Fr. Mike contrasts "freedom" with "license," why they are different and the fact of consequences.
Fr. Bill Byrne is one of several priests in the Archdiocese of Washington (DC) who have contributed to their quite active YouTube channel. Fr. Bill produces brief snippets on areas of our faith. Here he gives "5 amazing things about purgatory":
Brian Holdsworth looks at what it takes to "have a relationship" with Jesus:
I shared this video recently with someone on the topic of happiness. Chris Stefanick produced this a few years back, but of course, it is every bit as pertinent today:
I am honestly baffled why so many Catholics were supportive of the recent royal wedding. According to Jesus and thus the consistent teaching of the Church, it did not happen. This is because the "bride" is already married and will now be living in a public, adulterous relationship with another man (to put it bluntly). Yes, she got a legal divorce – so what? We do not recognize that EVER as terminating a marriage. This wedding is shameful and scandalous.
Matt Walsh gives a really, really good explanation of marriage. He is indeed Catholic but does not mention that here because the nature of (actual, true) Christian marriage applies to us all. The video is long but covers a lot of ground. Share this especially with those contemplating marriage.
OK, now that I "discovered" Matt Walsh (I know, late to the party again…) – I really like him. Somehow I missed his video last fall on self-esteem for Prager U. There is plenty of clear, simple, even obvious observations here:
---
Some random thoughts or bits of information are worthy of sharing but don't warrant their own full post. This idea was begun by Jennifer Fulwiler and is now continued by Kelly Mantoan. So, some Fridays I too participate when I have accumulated 7 worthy items. Thank you Kelly for hosting this project!