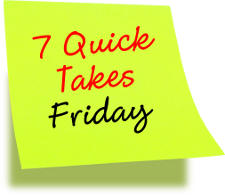 This week: The latest issue of New Evangelists Monthly awaits your perusal. Ascension Press has launched an excellent new video evangelism initiative. Congressman Sean Duffy makes an impassioned pro-life plea. Taylor Marshall explains five common apologetical mistakes. The 2015 graduation speech that should have been given. Watch as a fan catches a foul baseball from a totally new vantage point. Tomorrowland, at least it looked like it might have been good.
Issue #30, June 2012, of New Evangelists Monthly is ready for your enjoyment! Scores of faithful Catholic bloggers have contributed their very best pieces from May. Contributing authors this month include: Stephen Korsman, Nancy Shuman, Adam Crawford, David Wong, Kathleen Laplante, Cindy Hurla, Dave Wanat, Dn. Scott Dodge, Ellen Gable Hrkach, Larry Peterson, Fr. Chori Jonathin Seraiah, Matthew Coffin, Lisa Laverty, Roxane Salonen, Carolyn Astfalk, Melanie Jean Juneau, Monica McConkey, Bonnie Way, Christian LeBlanc, Barbara Hosbach, Rick Becker, Sr. Margaret Obrovac, Morgan McFarlin, Matt Nelson, Virginia Lieto, Birgit Jones, Matthew Bellisario, Matthew Plese, Tony Agnesi, Connie Rossini, Blythe Kaufman, Margaret Felice, John Schroeder, John Kenkel, Chibuzor Ogamba, Jamie Jo, Sarah Thèrése, Chris Capolino, Robert Collins, Ruth Ann Pilney, Jenn Tatum, Melissa Overmyer, Molly Oshatz, Fr. Tucker Cordani, Shannon Ball, Faith Flaherty, Tracy Smith, Rich Maffeo, Reese Cumming, Rose O'Donnell, Michael Seagriff, Fr. Ben Hadrich, Rita Buettner, RJ Martin, David Torkington, Anita Moore, Shannon Vandaveer, MC, George Sipe, Sr. Maresa Lilley, Lyn Mettler, Leslie Klinger, Laura Peredo, Lianna Mueller, Jessica and Manny Archuleta, Bartimaeus Timeo, Joseph Shaw, Sue Elvis, Lisa Ponchak, Tami Schuelke, Jennifer Hansen, Drusilla, Larry T, Sr. Anne Marie Walsh, Tom Perna, Kathleen S, Paul Roy, Brian Gill, Denise Hunnell, Amy Parris, Fr. Gilles Surprenant, Susan Fox, Tara, Ruth Curcuru, Joe LaCombe, Kim Padan, Emily Borman, Dennis McGeehan, Julian Barkin, Matt McCormick, Fr. Richard Delillio and Fr. Errol Fernandes.
This monthly "meta-magazine" showcases faithful Catholicism from theology to family life and "everything in between." Enjoy it now at NewEvangelists.org.

Ascension Press is an extraordinary developer of superb, engaging catechetical materials. Truly excellent.
Their latest initiative is Ascension Presents which they describe as "an evangelistic platform bringing entertaining, faith-filled, and dynamic presenters straight to your newsfeed. By providing engaging content for our audience that reflects the good, the true and the beautiful we hope to bring their hearts closer to Christ."
Go to their website and check it out. This is really good stuff.
It is difficult to know how strongly congressmen feel toward their position on abortion (pro-abortion or pro-life). Some seem to have adopted their position because their party told them to and they don't care enough to differ. Here is one pro-life Republican (Rep. Sean Duffy) who cares passionately:
Taylor Marshall explains five common mistakes we make when explaining our faith:
Graduations are over and their speeches are already forgotten. They were forgettable, being mostly patronizing fluff. Various people have taken a crack at writing what should have been said. Here is one for this year from (Pulitzer Prize winning Washington Post columnist) George Will that is excellent:
A fan at a baseball game catches a foul ball. It happens all the time, but this time the guy was wearing a head-mounted camera. Watch as he snags the ball:
Bill Whittle saw Tomorrowland. It had such potential, but alas turns out to be little more than plot-less, poorly acted, liberal propaganda piece. Sigh.
---
Some random thoughts or bits of information are worthy of sharing but don't warrant their own full post. This idea was begun by Jennifer Fulwiler and is now continued by Kelly Mantoan. So, some Fridays I too participate when I have accumulated 7 worthy items. Thank you Kelly for hosting this project!