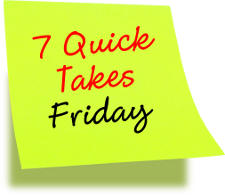 This week: The latest issue of New Evangelists Monthly awaits your perusal. St. Stanislaus Oratory celebrates. KLM inadvertently promotes truth while attempting to promote the opposite. Were the policies of our only Catholic president Democrat or Republican? A recent graduate reflects on her college education. Millennials and real work, imagined as lumberjacks.
Issue #56, August 2017, of New Evangelists Monthly is ready for your enjoyment! Scores of faithful Catholic bloggers have contributed their very best pieces from July. Contributing authors this month include: Fr. Stephen Morris, Virginia Lieto, Chris Capolino, Dave Wanat, Blythe Kaufman, David Wong, Dn. Scott Dodge, Ellen Gable Hrkach, David Gray, Carolyn Astfalk, Birgit Jones, Lisa Laverty, Melanie Jean Juneau, Reese Cumming, Susan Fox, Fr. Joseph Mungai, Fr. John Paul Shea, Scott Smith, Vijaya Bodach, Tony Agnesi, Bonnie Way, Tom Perna, Frank Rega, Matt Marks, Barbara Szyszkiewicz, Thomas and Deborah Richard, Michael Seagriff, Larry Peterson, Julia Harrell, Fr. Ben Hadrich, Elizabeth Reardon, Brian Gill, Rich Maffeo, Kirby Hoberg, Susan Stabile, Sarah, De Maria, Rick Becker, John Schroeder, Aimee O'Connell, Leslie Klinger, Lisa Ponchak, Dn. John Donaghy, Robert Collins, Fr. Errol Fernandes, Barbara Hosbach, Fr. Richard DeLillio, Alicia, Christian Miraglia, Tom Smith, Ellen Kolb, Nancy Shuman, David Torkington, Victoria Clarizio, Claire McGarry, Bianca, Christina Nagy, Brian Mullins, Julian Barkin, Fr. Adrian Danker, Erin Cupp, Roy Cooney, Roxane Salonen, Rick Rice, Thomas Cruz-Wiggins, Jennifer Elia, Deanna Babineau, Bartimaeus Timeo, Dn. Allen Tatara and Br. Nicholas.
This monthly "meta-magazine" showcases faithful Catholicism from theology to family life and "everything in between." Enjoy it now at NewEvangelists.org.

Blackstone Films has produced this excellent video on marriage. Marriage not in the legal and absurdly twisted sense, but authentic marriage as recognized by God:
St. Stanislaus is an Oratory of the Institute of Christ the King Sovereign Priest in Milwaukee. Last year they celebrated a beautiful renovation and their 150th anniversary.
The Dutch airline KLM thought it would be a great idea to jump on the gay-agenda bandwagon. So they tweated the following image saying "it doesn't matter who you click with." Very clever, adeptly illustrating only complimentary sexes work as the maker intended. Thank you KLM, well said (even as you intended the exact opposite).
JFK was our first, and so far only, Catholic US President. He was a lifelong Democrat from a prominent family of Democrats. Really? Compare President Kennedy to his party today.
This young lady is a modern college graduate who has figured-out the nature and value of her recently completed "education":
To understand millennials, this video explores what it would be like were they to do actual work (as lumberjacks):
---
Some random thoughts or bits of information are worthy of sharing but don't warrant their own full post. This idea was begun by Jennifer Fulwiler and is now continued by Kelly Mantoan. So, some Fridays I too participate when I have accumulated 7 worthy items. Thank you Kelly for hosting this project!