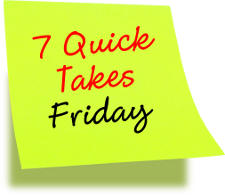 This week: 7 excellent video responses to hating religion (but loving Jesus). The lucrative business of killing babies in the womb. 39 women speak on how abortion has affected them. Blob of tissue saves father's life. America, blessed with incredible fuel resources. Martin Luther King was not a "community organizer." Selecting candidates consistent with your Catholic faith.
You may have seen or heard about a YouTube video entitled Why I hate Religion, But Love Jesus. 15+ million people have viewed this very misleading, error-filled video. It must make Satan quite pleased.
Marcel LeJeune at Aggie Catholics wrote an excellent response. He has followed that with more coverage, including finding these good video responses:
Finally, even Jeff Bethke (the creator of the video in question) admits there are problems with it. Replying to one critic "God has been working with me in the last 6 months on loving Jesus AND loving his church" (his emphasis). I think that he is sincere and really did not intend for it to come out the way it has – and be received / interpreted the way it has.
Say what you want about murdering children in the womb, it sure is lucrative! American Life League reports that CEOs of Planned Parenthood affiliates average over $150,000 per year. 30 out of 81 enjoy salaries over $200,000 and 18 over a cool $250,000! No healthcare background is needed – only 12% have any.
That's not all! Back at PP HQ, 8 management folks pull in an average $269,541. The business of death has a fine career path.
39 women speak on how abortion has affected them. One representing every year since Roe v. Wade. In March, they undertake a 21-day Trek for Life:
Blob of tissue saves father's life. LifeSiteNews.com has the story of a 7 1/2 month pregnant woman who was awakened by her baby. After a sharp kick, she found her husband not breathing and with no pulse. Read the story to see how it unfolds.
We are blessed with abundant fuel in America, enough to sustain us for 175 years at the current consumption rate. Recent discoveries estimate 1.7 trillion barrels (1.4 in the US alone). We also have 4,244 trillion cu.ft. of natural gas and 497 billion tons of coal. Our reserves dwarf many other suppliers. We are energy rich!
So, why are prices so high? Crushing government regulation, implemented with the intention of blocking development. To what end, let Maxine Waters (D) explain:
Martin Luther King was not a "community organizer." He was a Christian minister who viewed everything he said and did in the light of his faith. You can not read more than a few of his words before stumbling over scripture references, God, Jesus or Lord.
It takes a very sharp knife to edit that out and that is exactly what the secular world has done. Not rewriting history per se, but highlighting and suppressing it to meet a political agenda. Stalin would be proud.
Terence Jeffrey addresses this in his informative piece Missing From MLK Memorial: God over at Crisis Magazine.
Catholic Advocate is a wonderful resource for faithful Catholics who do not want to vote Democrat or Republican, but vote Catholic. As they note on their about page:
It is also the duty of the laity to participate actively in political life, in a manner coherent with the teaching of the Church, bringing their well-founded reasoning and great ideals into the democratic debate, and into the search for a broad consensus among everyone who cares about the defense of life and freedom, the protection of truth and the good of the family, solidarity with the needy, and the vital search for the common good.
---
Some random thoughts or bits of information are worthy of sharing but don't warrant their own full post. This idea was started by Jennifer Fulwiler at Conversion Diary to address this blogging need. So, some Fridays I too participate when I have accumulated 7 worthy items. Thank you Jen for hosting this project!