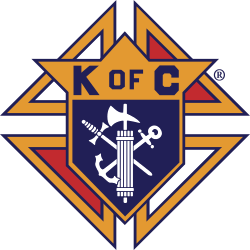 The Knights of Columbus is a service organization of faithful, Catholic men. A service organization in their very significant support of the whole Church, their parishes, the priesthood and individual parishioners. Faithful as "practical Catholics," men who believe and live by that which Holy Mother Church teaches.
You may have seen a whole page advertisement recently in USA Today calling for civility in the US presidential race. The Knights paid for that. You may have participated in the recent Fortnight for Freedom campaign. The Knights were a major sponsor. Locally we see the Knights organizing fish frys, pancake breakfasts, donut Sundays, blood drives, improving buildings and undertaking all manner of special projects. It is also not unusual for Knights to be well represented in many parish ministries.
The Knights were founded by the Venerable Michael J. McGivney, then a 29 year-old priest in New Haven Connecticut in 1882. From a small number of men in 1 parish and a modest insurance program benefiting member widows and orphans, the Knights of Columbus has grown into the largest Catholic fraternal service organization in the world. Last Sunday was the 160th anniversary of Father McGivney's birth. Last week was the 130th Supreme Convention, this year held in Anaheim, CA attended by 80 bishops (including a dozen cardinals), scores of clergy and more than 2,000 Knights.
The Knights have been called "the strong right arm of the Church" – praised by popes, presidents and other world leaders. The Knights have more than 1.8 million members who together donated over $158 million and 70 million volunteer hours last year alone. The optional insurance program for their members has received Standard & Poor's highest (AAA) rating and the highest A.M. Best rating (A++ / Superior) for 35 consecutive years, securely and dependably underwriting over $65 billion.
Membership is open to faithful Catholic men 18 years of age or older. Applications are available from any Knight. Many priests and deacons are members as well as numerous bishops and cardinals. Among the lay members are active military, veterans, police, firefighters, doctors, lawyers and a wide spectrum of other laity.
Brother Knights are organized in local councils associated with 1 or more parishes. There are four degrees within the Knights of Columbus. Each degree ceremony imparts a lesson on the order's core virtues of charity, unity, fraternity and patriotism respectively. Members of the 4th degree (the highest) are further organized in assemblies which typically span several parishes. 4th degree members are also known as "Sir Knights" and are the group from which the color corps is drawn (those Knights you may have seen in full regalia on special occasions).
Columbia, the monthly magazine of the Knights of Columbus, is excellent. It is available online here (including archive) and also offered inexpensively for non-members in print.
There are many famous Knights including Saints (Miguel de la Mora de la Mora, Pedro de Jesus Maldonado Lucero, Jose Maria Robles Hurtado, Rodrigo Aguilar Alemán, Luis Batiz Sainz, Mateo Correa Magallanes), Blessed (Jose Trinidad Rangel Montaño, Andres Sola Molist), numerous past and present clergy (including Venerable Fulton J. Sheen), public servants (including Samuel Alito, John Boehner, Jeb Bush, John F. Kennedy, Alan Keyes, Rick Santorum, Sargent Shriver, Al Smith) and even athletes (including Babe Ruth, Floyd Patterson, Connie Mack, Mike Ditka, Vince Lombardi).
For more information, see the Knights of Columbus website or this Wikipedia article.