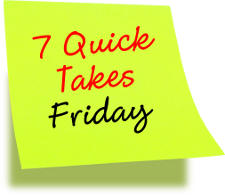 This week: The latest issue of New Evangelists Monthly awaits your perusal. Fr. Mike Schmidt speaks to our periods of darkness. Chris Stefanick and Bill Donaghy offer advice for men. How the future will judge us.
Fr. Rob Ketcham encourages those in the "casual Catholic culture" to go deeper. Wild Bill responds to a scared, terminally ill man in despair. Jordan B. Peterson suggest a path to a better world.
Issue #62, February 2018, of New Evangelists Monthly is ready for your enjoyment! Scores of faithful Catholic bloggers have contributed their very best pieces from January. Contributing authors this month include: Aimee O'Connell, Fr. Errol Fernandes, Michael Seagriff, Robert Collins, Brian Gill, Blythe Kaufman, John Schroeder, Nancy Ward, Ellen Gable Hrkach, Tony Agnesi, Kirby Hoberg, Sr. Maresa Lilley, Virginia Lieto, Barbara Szyszkiewicz, Stephen Korsman, Victoria Clarizio, Fr. Stephen Morris, Birgit Jones, Rick Becker, Claire McGarry, Larry Peterson, Thomas and Deborah Richard, Roxane Salonen, Susan Stabile, Mary Cooper, Fr. Gilles Surprenant, David Torkington, Vijaya Bodach, Lisa Ponchak, Fr. Richard DeLillio, Ruth Ann Pilney, Fr. Nicholas Blackwell, Dn. Scott Dodge, Leslie Klinger, David Wong, Rich Maffeo, Tom Perna, Carolyn Astfalk, Ruth Curcuru, Bartimaeus Timeo, Susan Fox, Carolyn Smith, Fr. Adrian Danker, Rick Rice, Vinny Carr, Anita Moore, Bonnie Way, Christina Nagy, Laura Peredo, Christian Miraglia, Dave Wanat, Jim Hahn, Ebeth Weidner, Melanie Jean Juneau, Jean Heimann, John Russell, Frank Rega, Julian Barkin, Elizabeth Reardon and Jennifer Elia.
This monthly "meta-magazine" showcases faithful Catholicism from theology to family life and "everything in between." Enjoy it now at NewEvangelists.org.

For many reasons, and even no discernible reason, we enter periods of desolation. At its worst, we may be tempted by desperation, isolation, hopelessness and despair. We may hear a little voice saying "there is no God" or "God is cruel" or "God only wants to punish you." That is Satan speaking and God allows it (for now). What are we to make of this?
Fr. Mike Schmitz provides a really good explanation for us:
Chris Stefanick and Bill Donaghy are sponsoring an initiative for guys to be better men called MenRiseUp.org. Chris' videos are always excellent. Here are two recent ones, first RISE UP! Stand in the Breach:
…and RISE UP! Be the Friend:
How will the future judge us? The Ohio Pro-Life League offers this self-explanatory image:
Fr. Rob Ketcham looks at our relationship with Christ's Church. Some of our number have all but fallen away. Fr. Rob calls it the "Casual Catholic Culture." How did that happen – not demographically, but personally, and how might we return?
"Wild Bill" (William Finlay) is a YouTube political commentator. He is also a Christian and responded to a man in deep despair who now doubts God. He's Protestant, so I have some quibbles but for the most part, his comments are very good.
Dr. Jordan Peterson offers compelling advice for all of us praying for a better world. Start by fixing yourself!
---
Some random thoughts or bits of information are worthy of sharing but don't warrant their own full post. This idea was begun by Jennifer Fulwiler and is now continued by Kelly Mantoan. So, some Fridays I too participate when I have accumulated 7 worthy items. Thank you Kelly for hosting this project!