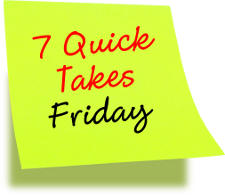 Some random thoughts or bits of information are worthy of sharing but don't warrant their own full post. This idea was started by Jennifer Fulwiler at Conversion Diary to address this blogging need. So, some Fridays I too participate when I have accumulated 7 worthy items. Without further ado:
This video from Project Truth simply asks "Have you any conception what abortion is all about?" It is NOT distasteful (while abortion on the other-hand, is completely distasteful). The Irish government had banned it.
Father Mark Gruber was fired last year from his job at St. Vincent College in Latrobe, Pennsylvania for downloading pornography on his computer. He didn't deny it. In fact, he said almost nothing.
Months later, one of his students publicly admitted that it was in fact he – not Father Gruber – who downloaded that content. He had confessed his sin to Father in the Sacrament of Reconciliation and Father Gruber is bound, regardless of any and all repercussions to himself, to maintain his silence. Priests have been martyred maintaining the confessional seal (as they must). Some questions remain, but at this point this story appears to be not of a shameful priest but of a good one.
Stephen Colbert testified before the House Judiciary Committee's Subcommittee on Immigration, Citizenship, Refugees, Border Security, and International Law. He was invited by Rep. Zoe Lofgren (D-CA), the subcommittee chairwoman.
Two weeks ago, 25 LGBT (lesbian, gay, bisexual, transgender) activists attended a Mass celebrated by Archbishop John Nienstedt (The Archdiocese of Saint Paul and Minneapolis). Most were students from (the Catholic) St. John's University and College of St. Benedict. They wore rainbow buttons and sashes in protest of Church teaching.
When they approached the archbishop to receive the Eucharist, some even reaching for the Blessed Sacrament, they were denied. Instead, Archbishop Nienstedt offered only a blessing. These protesters have pulled this stunt before and I think the archbishop handled it very well. It would be better still if Catholic colleges would stop tolerating open rebellion against the teaching of the Magisterium.
The incident was covered in the student newspaper, but I don't recommend its slanted coverage. Instead, read Father Zuhlsdorf's analysis.
Humility in action. Recently Jimmy Carter (D) appeared on NBC News a gave this frank, candid assessment of his post-presidency:
"I feel that my role as a former president is probably superior to that of other presidents," Carter assessed. "Primarily because of [my] activism and the injection of working at the Carter Center and in international affairs, and, to some degree, domestic affairs."
Today's quote:
Time magazine's cover story this week about the influence of life in the womb states the case: "We are the way we are because it's in our genes: the DNA we inherited at conception." Yes, upbringing and environment have a huge impact on our lives, but one thing never changes until our last natural breath: our DNA. Each human embryo is unique — it does not have the same DNA of the mother or father. That cell not only becomes us, it is us.

Archbishop Allen Vigneron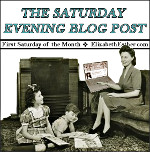 Elizabeth Esther kindly hosts a feature she calls The Saturday Evening Blog Post. Published monthly every first Saturday, it features the best post in the preceding month on each of a few dozen Christian blogs. The "best" entries are chosen by the authors themselves (so they should know!).
It is a great way to discover new blogs. Be sure to check-it out. My entry last month was the Only Catholics go to heaven?.