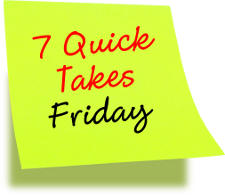 Some random thoughts or bits of information are worthy of sharing but don't warrant their own full post. This idea was started by Jennifer Fulwiler at Conversion Diary to address this blogging need. So, some Fridays I too participate when I have accumulated 7 worthy items. Without further ado:
This Lent I am reading Not by Bread Alone 2010, a little book of daily Lenten reflections by Jay Cormier. It is very good, with reflections that really speak to me. The layout is such that each day is covered by 2 facing pages. The reflection takes most of the space, but it is preceded by the an extract from that day's scripture and followed by a succinct meditation and prayer. I will definitely buy this book next year.
Mass presented in English is a translation of the Latin Mass. Unfortunately, there is no standard English translation so it varies from country to country. The US version is also not quite as close to the Latin version as it might be.
This will soon be fixed! A new, worldwide English Mass translation has been in careful development for a number of years. We will finally be switching to it at the beginning of Advent 2011 or 2012, depending on final approvals and necessary advance preparations. The new Roman Missal is available for your perusal now on the USCCB website. It even has its own website with more information.
I was delighted and honored to see that Marcel LeJeune added this blog to the Aggie Catholics blogroll. Aggie Catholics is the blog of the St. Mary Catholic Center at Texas A&M. They are a large, vibrant Catholic community. Aggie Catholics is one of the first Catholic blogs I followed and I continue to enjoy their posts.
Here are two quotes I ran across this week to share:
A church is a hospital for sinners, not a museum for saints.
and…
It often happens that I wake up at night and begin to think about a serious problem and decide I must tell the Pope about it. Then I wake up completely and remember that I am the Pope.
Last Saturday I had the opportunity to visit a Habitat for Humanity house under construction. It is a joint project with another Catholic parish. Daryl and Tony, friends from my Men's Fellowship table, were both there (Daryl leads the effort on our side). The house is fully built in 7 weeks and they are now at the halfway point. Each week a different parish group provides lunch for the volunteers. Last week our RCIA class had that privilege.
One interesting question (among many) posed in the Catholic Answers Forum recently is how to answer the question "are you a Christian or a Catholic?" My answer was simply "fully Christian." If a person asking this question doesn't understand that answer, then it is a great opportunity for a teachable moment.
I am learning much about the blogging world. One thing I have observed is that while many people read this blog, very few comment. Please always feel free to join in, disagree with me, offer a correction or share another perspective. If you have commented, thank you.
Have a question or something better suited to private communications? I respond to all e-mail in a timely fashion! I especially encourage comments from those considering Catholicism or returning to it.