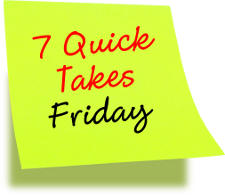 This week: The latest issue of New Evangelists Monthly awaits your perusal. The annual March for Life is almost here. A child at the brink of death is saved by the intercession of her guardian angel and the Communion of Saints. A woman remembers her child on her wedding day. A desperate father saves his son from premature organ harvesting. Burglars star in a restaurant's new TV ad. Secular Christmas classics re-imagined in light of contemporary headlines.
Issue #37, January 2016, of New Evangelists Monthly is ready for your enjoyment! Scores of faithful Catholic bloggers have contributed their very best pieces from December. Contributing authors this month include:
Fr. Stephen Morris, Stephen Korsman, Virginia Lieto, Ellen Kolb, Dave Wanat, Susan Fox, David Wong, Edwin Rodrigues, Ellen Gable Hrkach, David Cooney, Fr. Ben Hadrich, Devin Rose, Jamie Jo, Shannon Vandaveer, Melanie Jean Juneau, Allen Hebert, Nancy Shuman, Chris Capolino, Fr. Errol Fernandes, Dn. Scott Dodge, Melissa Overmyer, Larry Peterson, Robert Collins, Kathleen Laplante, Carolyn Astfalk, David Torkington, W.L. Grayson, Bartimaeus Timeo, John Schroeder, Mike Landry, Birgit Jones, John Donaghy, Vinny Carr, Suzanne Carl, Eric Johnston, Leslie Klinger, John Russell, Matthew Plese, James Milliken, Brian Mullins, Debbie Gaudino, Tony Agnesi, Fr. Tucker Cordani, Michael Seagriff, Laura Pearl, Rich Maffeo, Lianna Mueller, Barbara Hosbach, Margaret Felice, Fr. Adrian Danker, Rae Stabosz, Denise Hunnell, Brian Gill, Kathryn Cooper, Monica McConkey, Kirby Hoberg, Lyn Mettler, Erin Cupp, Joseph Shaw, Matthew Coffin, Justin Soutar, Dn. Greg Horton, Tom Perna, Drusilla, Rita Buettner, Rose O'Donnell, Adam DeVille, Sr. Anne Marie Walsh, Reese Cumming, Msgr. Charles Pope, Rick Becker, Elizabeth Reardon, Alexandrina Brant, Jeff Walker, Frank Rega, Fr. Juan Velez and Jennifer James.
This monthly "meta-magazine" showcases faithful Catholicism from theology to family life and "everything in between." Enjoy it now at NewEvangelists.org.

The 2016 March for Life is just 2 weeks away – January 22, 2016.
The flu can be deadly for the young and old. It is not just a bad cold. 4 year old Gemma Botelho almost died. Thanks to her guardian angel (nudging her parents to choose the emergency room) and through the intercession of the Communion of Saints, she survived. It is a miracle, but not an unexplainable one!
Some weddings are bitter-sweat, such as that of Amanda Freebird. Two years ago her 6 year old daughter Azalee died from cancer. Amanda wanted, in some way, to include Azalee and photographer Ashley Frantz did just that in a touching image. The story is at People.
George Pickering III is a happy, healthy young man working with his dad in a small electrical engineering business and in building a new house.
Last year this time, a Texas hospital decided the time was right to harvest his organs. George was terminal with no hope for recovery. His dad disagreed, but there was nothing he could legally do to stop them. Legally, he could do nothing. The story is here.
Frijoles & Frescas was burglarized a week before Christmas. They decided to fight back, turning their surveillance video into this commercial:
Finally, as my wrap-up to the Christmas season, I present these secular stories… updated.
---
Some random thoughts or bits of information are worthy of sharing but don't warrant their own full post. This idea was begun by Jennifer Fulwiler and is now continued by Kelly Mantoan. So, some Fridays I too participate when I have accumulated 7 worthy items. Thank you Kelly for hosting this project!