Top Story Roundup
Dateline: Jerusalem, 33 AD
Torn Curtain
The big story today is the torn temple curtain. An earthquake felt last Friday at 3:00pm triggered a complete tear of the heavy fabric separating the Holy of Holies within the temple complex.
Engineers speculate that poor workmanship may be to blame. The leading theory is that a manufacturing flaw near the top, stressed by the material's weight and the quake shaking, may have led to the damage.
Repairs are expected to begin immediately. A temporary curtain has been erected and normal temple operations have resumed. No impact is expected on the Passover observance.
Blasphemer Silenced
In unrelated news, the blasphemous Jesus of Nazareth was crucified. Only days before, many welcomed him into the city. Our priests identified his teachings as false and contacted authorities in order that action be taken. The claims of being God and "king of the Jews" were particularly offensive in this holy time of Passover.
This story ends on an odd note. Despite the posting of guards, unknown parties have reportedly stolen the remains of the crucified man.
Barabbas Freed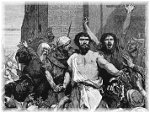 Local governor Pontius Pilate, honoring tradition and bending to significant public pressure, commuted Barabbas' sentence and released him. Barabbas had been imprisoned for rebellion and was scheduled for execution. We commend the mercy of Pontius Pilate in freeing our brother.
Passover
Passover began last week with the traditional Seder meal. We remember God's protection through the blood of the lamb and the meal He commanded us to receive. As Passover ends, our thoughts move from the past to the future. We eagerly await the Messiah's coming!