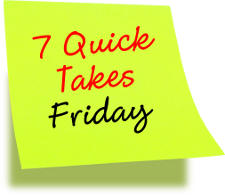 This week: Christine Watkins tells her conversion story and overviews her book on converts. A new book on the Church and new media. A week in the life of a priest. Jerusalem in iMax 3D. The world's oldest nun, still going strong. A whimsical Catholic nun commercial.
Christine Watkins tells her conversion story:
Christine is the author of Full of Grace:
The Internet has changed how we communicate. Our Holy Father has "set sail on the digital continent", tweeting from his iPad. *We* are called to evangelize and one very effective way to do that is online. Brandon Vogt's new book (available August 3rd) compiles insights from many people I personally follow closely:
The Archdiocese of Sydney has produced a very nice "week in the life of a priest" video. On balance, it probably represents a reasonable average and is up-beat. In my large parish (we just got our 4th priest!), the pace looks a bit faster. There are also tragedies like suicides, horrific accidents, and more that place great emotional demands on them. Pray for your priests!
A new film (2013 release) entitled Jerusalem: Filmed in iMax 3D is in the works:
Spotted by my friend Tom
This is the world's oldest nun. A remarkable woman who entered her convent 84 years ago on the same day Pope Benedict was born. Sister Teresita is 103 years young:
This is from a couple years ago, but it is just great:
---
Some random thoughts or bits of information are worthy of sharing but don't warrant their own full post. This idea was started by Jennifer Fulwiler at Conversion Diary to address this blogging need. So, some Fridays I too participate when I have accumulated 7 worthy items. Thank you Jen for hosting this project!