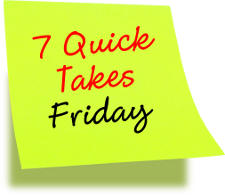 This week: Comedian Michael Jr talks about fatherhood. A funny spoof video on the new encyclical on the environment. A classic Fulton Sheen show on angels. When an "angel" visited a terrible auto accident. The Archdiocese of Washington's vocational promotion video for the priesthood. Children are asked (tactfully) for their views on abortion. Andrew Klavan tries to make sense of "gender."
I have never heard of this comedian (but then again, the ones I can name are mostly dead). Anyway, Michael Jr (apparently his name) recorded this video for Father's Day and it is really good:
Some people clearly have too much time on their hands. This video is entitled "Pope Francis in The Encyclical: the epic battle against the climate crisis":
There was a reason the (now) Venerable Fulton J. Sheen had the #1 television show that even the popular Milton Berle could not top. Here is a wonderful episode that I watched recently on angels. Remember, this was live TV:
You may remember this story from last year of a terrible auto accident that critically hurt and trapped a young woman. Rescuers tried everything to get her out, but nothing worked. Then suddenly, a man appeared holding a bottle of anointing oil and asked to pray for and anoint the victim. As quickly as he appeared he vanished. None of the many people on the scene saw him come or leave, as if it were an angel.
The young woman survived and is recovering well. The "angel" was later identified as a Catholic priest (Fr. Patrick Dowling of the Diocese of Jefferson City), which makes the story no less awesome. This is what priests do. They attend, comfort – and most importantly – stand for our Lord to give desperately needed grace.
This is another great priest vocation promotion video. This one is from the Archdiocese of Washington, filmed last summer:
Children are asked, in a very tactful way appropriate to their age, for their viewpoint on abortion.
Andrew Klavan wonders what gender are you? The always sensitive commentator takes a look at the exciting world of "gender."
---
Some random thoughts or bits of information are worthy of sharing but don't warrant their own full post. This idea was begun by Jennifer Fulwiler and is now continued by Kelly Mantoan. So, some Fridays I too participate when I have accumulated 7 worthy items. Thank you Kelly for hosting this project!