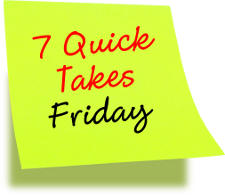 This week: An amazing story of survival, life and faith – Gianna Jessen. Bp. Morlino discusses beauty in the liturgy. Tit-for-tat… the intelligentsia rejects science since it now rejects their worldview. I wish this were not still a story… the CCHD is remains badly broken. Big surprise (heavy sarcasm), a key white house aid lands VP gig at Planned Parenthood. Jim Rockford has been forced out of retirement to advise a troubled Occupy Wall Street protester. Pope Leo XIII has the quote of the week.
Some people escape death, but few of them survived abortion. Gianna Jessen is one. A Los Angeles County Planned Parenthood counseled her mother to receive a late term abortion. A caustic, deadly solution was injected. Instead of producing a dead baby, Gianna emerged. Listen to just the first minute of this video (then see if you can stop!):
Part II completes the story and is also excellent. Thanks go to Matthew Archbold for spotting this.
Bishop Robert Morlino (of Madison) two weeks ago wrote of true beauty in the liturgy.
Beautiful means, in the first place, embodying the truth. Some of the songs that we sing at liturgy contain lyrics which clearly are not true – for example, the song "All Are Welcome." As a matter of fact, the liturgy takes place mystically in the heavenly sanctuary. All are welcome at the liturgy who truly seek salvation in and through Jesus Christ, by following God's Will, as spelled out through His Son's very Body, the Church. People who have little interest in doing God's Will don't fit at the liturgy. And certainly, by their own choosing, the poor souls who suffer in Hell for all eternity are not welcome. Those are simple, but true facts. Thus the song, "All Are Welcome," gives an impression that the choice for the Will of Jesus Christ, as it comes to us through the Church, makes no difference; and nothing could be further from the truth. It could therefore be concluded that the song, "All are Welcome," is not beautiful so as to be appropriate-for-liturgical-use. Being true is necessary before anything can be beautiful.
(N.B. The Gather Hymnal is highly problematic.) Bp. Morlino's excellent comments cover a lot of ground on truth and beauty. Father Z adds his own annotated comments.
Now that science proves much of the pro-life position, the liberal intelligentsia must argue against science. Instead, the mother is called the host and her baby equated to a virus by the politically correct.
It is that time of year again where you will soon be asked to give generously to the Catholic Campaign for Human Development (CCHD). Please consider giving generously to a worthy, moral charity in its place. Last February I wrote about ongoing problems at the CCHD. Those problems have sadly continued despite claims to the contrary.
Moral theologian Dr. William Marshner has found serious moral issues with CCHD grants:
Your Report has documented at least 11 cases which, in my judgment, are cases in which prima facie the grantee has done or promoted an immoral activity. In every one of these cases, the grantee has behaved in such a way that continued funding puts the Church in a position of formal cooperation (or in the apparent and proximate danger of formal cooperation) with moral evil.
For more information see Reform CCHD Now, Janet Baker's USCCB's Lame Defense of the CCHD, Life Site News' Moral theologian voices concern over CCHD grant process, and Michael Voris' Immorality and Injustice video (or his comprehensive video on this topic).
In 7QT #43 I included a parody video on the tight bond between Planned Parenthood and the president. Just how tight is that bond? Politico reports:
PLANNED PARENTHOOD NAMES KEY WHITE HOUSE AIDE, DANA SINGISER, VICE PRESIDENT FOR PUBLIC POLICY AND GOVERNMENT RELATIONS: Planned Parenthood Federation of America announced that it has named Dana Singiser its Vice President for Public Policy and Government Relations. She will join PPFA in early December. Singiser currently works in the White House as Special Assistant to the President for Legislative Affairs. – Singiser has been with President Obama since his first day in office. She was a key part of the legislative team that helped pass the historic health care reform law – Singiser held leadership positions on Barack Obama's presidential campaign, as well as then-Senator Hillary Rodham Clinton's presidential campaign, where she focused on women's outreach.
Los Angeles based private investigator Jim Rockford, made famous in the documentary The Rockford Files, has briefly come out if a well-deserved retirement. Jim waved his standard fee of $200 a day plus expenses to counsel this wayward Occupy Wall Street protester:
(This video is no longer available.)
St. Paul was more blunt, observing: "In fact, when we were with you, we instructed you that if anyone was unwilling to work, neither should that one eat."
A spokesman for the movement was urinating in the park and unavailable for comment.
The quote of the week:
Some there are, indeed, who maintain that it is not opportune boldly to attack evil – doing in its might and when in the ascendant, lest, as they say, opposition should exasperate minds already hostile. These make it a matter of guesswork as to whether they are for the Church or against her, since on the one hand they give themselves out as professing the Catholic faith, and yet wish that the Church should allow certain opinions, at variance with her teaching, to be spread abroad with impunity. They moan over the loss of faith and the perversion of morals, yet trouble themselves not to bring any remedy; nay, not seldom, even add to the intensity of the mischief through too much forbearance or harmful dissembling.
---
Some random thoughts or bits of information are worthy of sharing but don't warrant their own full post. This idea was started by Jennifer Fulwiler at Conversion Diary to address this blogging need. So, some Fridays I too participate when I have accumulated 7 worthy items. Thank you Jen for hosting this project!