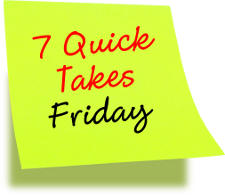 This week: A powerful pro-life video showing the impact one man can have. Another beautifully simple pro-life video. Not religious enough: the Little Sisters of the Poor. 6 high-school kids form a singing group. Leah Darrow speaks on brokenness. A quote of the week. Unusual items from Convert Journal's "something different" desk.
This is a video about working in the vineyard. There is great pain and brokenness but also beauty and grace in one very determined worker, John Barros.
A beautifully simple, scriptural, pro-life video:
The Little Sisters of the Poor, like you and me, are not considered religious enough by the Obama administration to warrant any exception from ObamaCare mandates to violate their faith. The Little Sisters must financially support intrinsic evil or be fined millions of dollars (which, of course, they do not have). This is who they are:
These 6 high-school kids formed a schola to sing sacred music at Mass. Now available on CD.
There are a surprisingly large number of wonderful videos on YouTube that, even after a couple years, have a low view count. Here is one from 2 years ago by Leah Darrow on Brokenness. Her comments are directed toward teens, but are good for all of us:
A quote of the week:
From the Convert Journal "something different" desk: The Grommet. Many of you may be aware of Kickstarter, where innovators propose products and ask for funding to bring to market.
The Grommet is a complimentary idea. They are a retailer who offers useful but undiscovered products that are available right now. They call them "grommets". They could be just another outlet of questionable quality, gimmicky products that you might see on late night infomercials – but actually are just the opposite of that. That is what makes them like the more popular Kickstarter products. Here is an example:
The products are reasonably priced and well presented. Many would make unique gifts. (FWIW: I am just passing this along and have no stake in them.)
---
Some random thoughts or bits of information are worthy of sharing but don't warrant their own full post. This idea was started by Jennifer Fulwiler at Conversion Diary to address this blogging need. So, some Fridays I too participate when I have accumulated 7 worthy items. Thank you Jen for hosting this project!