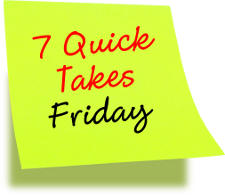 This week: a Christmas video wrap-up. A touching gift for a widowed husband. The Random Altruist strikes! Gifts for the homeless. A Christmas meal in Las Vegas. Pope Francis visits sick children on Christmas. Teen, glued to phone, doing what? A better way to use "smart" phones on Christmas (off).
Star 102.5, a radio station in Des Moines, along with local merchants, grants a Christmas wish each year. This is the wish they granted this Christmas:
Spotted by my friend Tom
I set my bow in the clouds to serve as a sign of the covenant between me and the earth. When I bring clouds over the earth, and the bow appears in the clouds, I will remember my covenant between me and you and every living creature — every mortal being — so that the waters will never again become a flood to destroy every mortal being.
The Random Altruist strikes! This is probably a promotion for Google, but I still like it. N.B. the video was captured by some dude wearing (not yet released) Google Glass.
Actually, these YouTube videos are almost an Internet meme – but a good one. Here is another sample (pay special attention at the 1:45 mark):
Helping the homeless everyday are organizations like Catholic Charities. Here is what they did in Las Vegas on Christmas:
Pope Francis spent three hours visiting children at a children's hospital in Rome:
Apple had an ad showing that it is possible, or at least conceivable, that someone glued to their phone might be actually participating in the world around them. It could happen – in theory.
I like CatholicVote's take better. On Christmas, some enjoyed a much better version of Facetime®.
---
Some random thoughts or bits of information are worthy of sharing but don't warrant their own full post. This idea was started by Jennifer Fulwiler at Conversion Diary to address this blogging need. So, some Fridays I too participate when I have accumulated 7 worthy items. Thank you Jen for hosting this project!