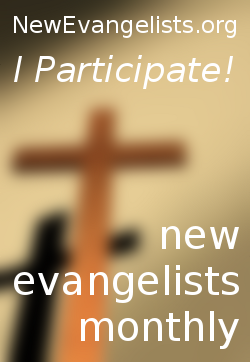 The inaugural issue of New Evangelists Monthly launches tomorrow!
There you will find an eclectic mix of blog posts covering all aspects of Catholicism and Catholic life. Faithful Catholic bloggers are invited to select their "best" post from the prior month (December 2012 in tomorrow's case) and add a link to it.
Each entry will include a picture and title, with all entries arranged in a grid (Pinterest fans will feel at home). Clicking on an entry will take you directly to the author's blog for that piece. It is very intuitive.
A new edition of New Evangelists Monthly will be created the first Saturday of every month. New editions will open at noon (12:00pm ET) for bloggers to enter their link. Readers should note that the number of entries will dynamically expand as additional authors contribute their links.
How do you find this "meta-magazine" of the best posts in the Catholic blogging world? One way is to click on the logo you will find on this and other participating Catholic blogs. That logo is shown with this post. Alternatively, simply go to:
More information for readers and bloggers is available here.
Those of you who are familary with blog "linky lists" will recognize this as based on that technology. This offering is a little different than many in that it invites only faithful Catholic bloggers to participate as an expression of the New Evangelism. The intention is to provide an interesting, monthly source of the best faithfully Catholic blog content.
Please stop by and check it out anytime. New editions are available after every first Saturday. It is dynamic, interesting, faithful and free!