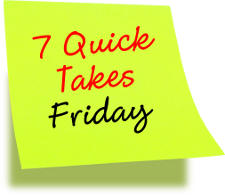 This week: The latest issue of New Evangelists Monthly is ready and calling you. A young boy responds to his mother's big news. Any day, any minute, could be our last – a video example. Deep thoughts from Nick Offerman. One approach to getting your kids to do simple, responsible tasks. A contraption that allows you to "sit" anywhere, anytime. A quick test of our "secure" borders.
Issue #21, September 2014, of New Evangelists Monthly is ready for your enjoyment! Scores of faithful Catholic bloggers have contributed their very best pieces from August. Contributing authors this month include: Ellen Kolb, Kathleen Laplante, Michael Seagriff, Christian LeBlanc, Heidi Knofczynski, Arleen Spenceley, Tami Schuelke, David Wong, Matthew P, Steve Smith, Kevin Shaw, Stephen Korsman, Kathryn Cooper, Timothy McCormick, Ellen Gable Hrkach, Birgit Jones, Maolsheachlann O'Ceallaigh, Adam Crawford, Rich Maffeo, Nancy Ward, Tony Agnesi, Blythe Kaufman, Margaret Felice, Chris Capolino, Nancy Shuman, Connie Rossini, Rick Becker, Claire McGrath, Jamie Jo, Melanie Jean Juneau, Barbara Szyszkiewicz, Denise Hunnell, Lara Patangan, Ruth Curcuru, Cindy Hurla, George Sipe, Gregory Watson, Lora Goulet, Allison Salerno, Lisa , Joey Prever, Billie Jo Stoltz, John Donaghy, Thomas and Deborah Richard, David Gray, Dn. Scott Dodge, Liana Eisenman-Wolford, Laura Christine, Theresa Doyle-Nelson, Brantly Millegan, Sr. Margaret Obrovac, Kimberly Lynch, Lawrence and Susan Fox, Fr. Chori Jonathin Seraiah, Rita Buettner, Zoe Jumonville, Fr. John Corrigan, Lisa Laverty, Sr. Maresa Lilley, Fr. Errol Fernandes, Fr. Adrian Danker, John Schroeder, Jacqui Paraguya, Sallie Thayer, Leslie Klinger, Roxane Salonen, Christina Sawchuk, Kim Padan, Rebecca Royse, De Maria , Laura Pearl, Fr. David Berger, Mallory Hoffman, Cyndi Marlow, Philip Kosloski, Jeff Walker, Brian Gill, Shannon Vandaveer, Annie Jeffries, Matt Warner, Rose O'Donnell, Jennifer Hansen, Karee Santos, Emily Hartung, Paul Smith, Tara Baker, Fr. Gilles Surprenant, Jim Curley, Amy Parris and Bartimaeus Timeo.
This monthly "meta-magazine" showcases faithful Catholicism from theology to family life and "everything in between." Enjoy it now at NewEvangelists.org.

"I'm pregnant!!!" Imagine the joy and excitement of siblings upon hearing those words. Or maybe not…
For the most part, we live every day as if there will be many more following it. Plenty of time (see my piece January 2010 piece: No rush, take your time). That is not always true. Any day, any minute, could be our last.
These are deep thoughts from Nick Offerman. They are non-political musings about the world and everyone in it.
What parent does not identify with this problem: getting your kids to responsibly perform simple, obvious chores. It is an intractable struggle. Words often fail to get through. How about putting instructional videos on their social media?
Imagine being able to sit when and where you usually can not. This could be useful for a lot of folks:
Our borders are secure! …or so says the administration. There are many videos similar to this:
---
Some random thoughts or bits of information are worthy of sharing but don't warrant their own full post. This idea was started by Jennifer Fulwiler at Conversion Diary to address this blogging need. So, some Fridays I too participate when I have accumulated 7 worthy items. Thank you Jen for hosting this project!