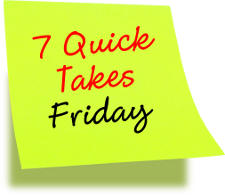 This week: The latest issue of New Evangelists Monthly awaits your perusal. Remembering the electoral process — a quick visit of some selected elements: Les Deplorables. Condescending white kids. A meteor chosen as a better outcome. Just an elaborate prank. Bad lip reading of a convention. A serious look at ideology vs. pragmatism.
Issue #47, November 2016, of New Evangelists Monthly is ready for your enjoyment! Scores of faithful Catholic bloggers have contributed their very best pieces from October. Contributing authors this month include: Shannon, Fr. Stephen Morris, David Wong, Chris Capolino, Stephen Korsman, Dave Wanat, Matthew Plese, Maria Johnson, Carolyn Astfalk, Ellen Kolb, Fr. Ben Hadrich, Kim Padan, Fr. Austin Fleming, Sarah, Erin Cupp, Birgit Jones, Adam Crawford, Nancy Shuman, Ellen Gable Hrkach, Jennifer Short, Katie O'Keefe, Tucker Cordani, Rick Becker, Roxane Salonen, Laura Pearl, Monica McConkey, Virginia Lieto, Larry Peterson, George Sipe, Denise Hunnell, Matthew Bellisario, Dn. Scott Dodge, Barbara Hosbach, Tony Agnesi, Leslie Klinger, Kathleen Laplante, Elizabeth Reardon, Kirby Hoberg, Alicia, Blythe Kaufman, Fr. Errol Fernandes, Bartimaeus Timeo, Mark Langley, Aaron Martin, Melanie Jean Juneau, Fr. Adrian Danker, Sr. Maresa Lilley, Anna Coyne, Michael Seagriff, Bonnie Way, Tom Perna, Allen Hebert, Dn. John Donaghy, Robert Collins, Larry T, Rich Maffeo, Brian Gill, Claire McGarry, Vijaya Bodach, Susan Stabile, John Schroeder, Jeff Walker, David Torkington, Fr. Gilles Surprenant, Barbara Szyszkiewicz, Christina Nagy, Chibuzor Ogamba, Eric Johnston, Fr. Richard DeLillio, Rick Rice, De Maria and Carissa Douglas.
This monthly "meta-magazine" showcases faithful Catholicism from theology to family life and "everything in between." Enjoy it now at NewEvangelists.org.

Out of their hobbit holes (I know, mixing themes) they came, from vast fly-over country, carrying their Bibles and their guns. Then they voted. They voted not for the good, because that was not offered. They chose the merely bad over the evil.
As a result of their clear thinking and well-formed consciences, in the next decade or two, countless children may be born who would have otherwise suffered violent deaths in their mother's womb. It is a victory… but only for the moment. Now we go back to work as there is much to do.
This is priceless. Condescending, arrogant, privileged white college students protecting the interests of blacks (because they know everything about their challenges). You know, without any means of obtaining ID cards, no access to the internet or even the skills to use it. Say what? Stupid, racist, ignorant — yup.
(Click through. Annoyingly, must be viewed on YouTube.)
We had choices. Clinton. Trump. A meteor hitting earth and wiping-out all life.
When this poll was done at the end of June, 13% of the respondents chose the meteor. What does that say about our primary process?
Trump, never an actual candidate but an elaborate prank. You have to admit, this is just funny. Or sad. It is what it is. (Warning, some inappropriate themes.)
Ah, the memories of this crazy, zany election season. From Bad Lip Reading:
Ideologue or pragmatist? Every election season is full of labels. Jonah Goldberg, Senior Editor for National Review, explores the subject for Prager U.
---
Some random thoughts or bits of information are worthy of sharing but don't warrant their own full post. This idea was begun by Jennifer Fulwiler and is now continued by Kelly Mantoan. So, some Fridays I too participate when I have accumulated 7 worthy items. Thank you Kelly for hosting this project!