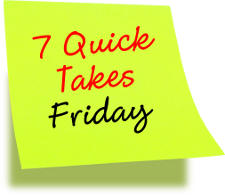 This week: Killing babies born alive is SOP for some in the abortion industry (Philadelphia's Dr. Kermit Gosnell is not an isolated case). Planned Parenthood personnel quit over dangerous conditions. How well is the big-spending European Union doing? Politically incited violence – the Family Research Center shooting. A Catholic IQ test. Jackie Evancho. A dramatic, foiled suicide attempt.
The abortion industry and their PR arm (the mainstream media) at first maintained a complete blackout on the trial of late term abortionist Dr. Kermit Gosnell. Now they say his repeated infanticide was an aberration. Live Action shows how common it really is:
Lila Rose, president of Live Action, discusses:
For the pro-abortion response, see this.
A Planned Parenthood abortion clinic is so unsafe and so unsanitary that nurses are quitting in order to protect themselves and their licenses. The Susan B. Anthony List has commented on the affair.
Our uncontrolled national debt, blown into the stratosphere like a rocket ship in just one administration, puts us on the same path as the European Union. So, how is that unlimited spending working out for them? Nigel Farage (a member of the European Parliament) has these thoughts to share:
The Southern Poverty Law Center website still lists the Family Research Center as a hate group. Painting a bulls-eye on this pro-family organization motivated one man to attempt the murder of as many of their people as possible (this is not conjecture, it was literally in his confession). He would have succeeded too, were it not for Leo Johnson – a hero security guard who stopped him (and got wounded in the process). This is the video:
Check-out the Catholic IQ Test. You will enjoy the artwork that accompanies the test as well as some of the creative, incorrect answers offered. Be forewarned – it is a bit long (but you can save your work and come back later).
I first noticed Jackie Evancho when she was on America's Got Talent. My friend Tom sent this link of her performing a year later (when she was 11):
An alert guard sensed something was wrong. He positioned himself near a man on a train platform. Just as the train approaches, within a few feet of the man, he throws himself in front of it. In a fraction of a second, the guard literally pulls him back onto the platform. This happens really fast so pay attention!
---
Some random thoughts or bits of information are worthy of sharing but don't warrant their own full post. This idea was started by Jennifer Fulwiler at Conversion Diary to address this blogging need. So, some Fridays I too participate when I have accumulated 7 worthy items. Thank you Jen for hosting this project!