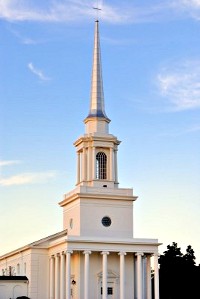 Here in the South, upon moving to a new community, it does not take long before someone will ask if you have found a new "church home." I love it when people are not afraid to openly live their Christian faith and work to fulfill the Great Commission.
There are other reasons people seek a new church home too. The loss of a much loved pastor, internal political battles and changes in direction of the church community or the individual — to name a few.
So, what might be a "check list" of considerations when looking for a new church? Here are some that are common:
A welcoming environment: how does the church make you "feel"? How much do they want you?
A comfortable environment: is parking easy and seating comfortable? Is the sound system awesome and are big screens used to bring everyone closer to the action?
Physical proximity: is it the closest church? If not, how much further must you drive to get there and how many other churches will you pass?
Spiritual proximity: are their apparent beliefs compatible with yours? Do they agree with your position on homosexuality, abortion, women clergy, the death penalty, forgiveness of sin and eternal salvation? Pay special attention to this point because you certainly don't want to hear a bunch of sermonizing on things you reject.
Rules: are they easy-going or do they have a bunch of "rules" that you are expected to follow such as attendance, tithing, music, dress, alcohol, dating, displays of affection and so on. You are an adult and don't need to be told what to do, right?
A powerful preacher: does the pastor preach well? Are his or her topics interesting and pertinent to your life? Do you feel engaged by his manner of presentation? Can she extensively quote scripture to support her points?
Moving / uplifting music: does the music "do something for you"? Do you enjoy it and look forward to each performance?
Size: do you prefer a large or small church family?
Ease of joining: are you accepted as a baptized Christian or do they force you to attend classes before letting you join?
Member neighbors: will membership improve and strengthen your social standing in the community? Will it give you another thing to have in common with your neighbors?
Professional benefits: does the church have a lot of members who are "movers and shakers," whose shared affiliation at church could be a professional asset?
These and similar points are on many folks' lists, explicitly or implicitly, when (for whatever reason) they look for a new church home.
If I might be so bold (and indeed I might!) gentle reader, these are all wrong-headed. These questions do not bring you closer to the truth taught by our Lord, lead to increased holiness or necessarily keep you on the path to salvation. This is consumerism.
Don't get me wrong, we live in a consumer driven society and there is nothing wrong with optimizing our personal interests per se. Common examples are buying a new house or car, choosing a gym or doctor, searching for a new job, joining an organization or even deciding which charities to support. All of these things can be approached from the perspective of a consumer.
Your faith is a completely different matter. There is only one God, the Creator of all things, who became incarnate in His Son, who revealed His Father's will and through His blood our sins are atoned. Your questions should be pointed to Him, not yourself:
When was this church founded and by who? Jesus was very clear that there is 1 Church and He expects unity within it. He promised it would be protected against the forces of evil until the end of time.
How was the organization of this church determined? What are the requirements to be a leader in the church.
Does this church teach the truth? By what authority is it guaranteed? Truth is not relative to what you want or a democratic vote. There are not multiple, conflicting truths.
Has the church modified, added to or removed from its teaching over time? Have adjustments been made to accommodate modern thinking and social changes or have the teachings of Jesus been preserved.
In what manner do you worship as a community? How does it differ from the early Church?
Only the Catholic Church was founded by Jesus Himself. It is the universal (consistent, unchanging, "catholic") Christian Church. Jesus selected and formed the apostles and appointed Peter as their leader. The Catholic Church maintains direct, uninterrupted succession to them. The Church is NOT empowered to change or redefine the deposit of faith, but rather preserves it under the protection of the Holy Spirit. We have taught the same thing for 2,000 years. The Most Holy Sacrifice of the Mass was first celebrated by our Lord himself at the Last Supper and His Passion. We canonized (compiled) the Holy Bible and through our Magisterium, guided by the Holy Spirit, alone interpret it without error.
We were not founded by men – with differing beliefs – 1,500 years after Jesus. We do not have newly invented doctrines (after 1,500 years) such as Sola Scriptura (Scripture Alone), Sola Gratia (Grace Alone), Sola Fide (Faith Alone), Solus Christus (Christ Alone) and Soli Deo Gloria (To God Alone Be Glory). All faithful Catholics worldwide share common beliefs, the same today as they were 500, 1,000, 1,500… 2,000 years ago.
Christians in other communities are our brothers and sisters in Christ. They too form the Body of Christ. They too are part of the Communion of Saints. They too are partially Catholic! There is only 1 Christian Church, the Catholic Church. Some are in full communion with the Church (faithful Catholics) while other Christian communities, to varying extents, lack the fullness of the faith and are burdened by error. Come home.
"I gave them your word, and the world hated them, because they do not belong to the world any more than I belong to the world. I do not ask that you take them out of the world but that you keep them from the evil one. They do not belong to the world any more than I belong to the world. Consecrate them in the truth. Your word is truth. As you sent me into the world, so I sent them into the world. And I consecrate myself for them, so that they also may be consecrated in truth."

"I pray not only for them, but also for those who will believe in me through their word, so that they may all be one, as you, Father, are in me and I in you, that they also may be in us, that the world may believe that you sent me. And I have given them the glory you gave me, so that they may be one, as we are one, I in them and you in me, that they may be brought to perfection as one, that the world may know that you sent me, and that you loved them even as you loved me."