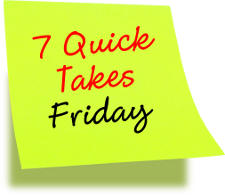 This week: There's a little black spot on your head today. Planned Parenthood's tireless, evil efforts. Joel Northrup places morality above athletics. Snow, and what one dad spent 80 hours building for his kids. Our executive branch unilaterally usurps the power of the legislature and judiciary to attack genuine marriage. Following in Mother Theresa's footsteps. Happiness.
With Lent beginning next Wednesday, I thought that I would pull out this video from last year. It is called This Time of Forty Days but I would have named it after its lead verse – "There's a little black spot on your head today…"
The old adage, "if you are going to do something, do it well" is seriously taken to heart by Planned Parenthood. Like Satan, they do not want to loose even one soul to life. If that means breaking laws on custodial rights and ignoring a police officer's lawful orders – so be it. Read this story on PP's tireless determination to arrange a late term abortion for a 14 year old.
Joel Northrup (35-4) was favored in the Iowa wrestling championships against his opponent (20-13). Instead he did not even try. His opponent was a girl and young, home-schooled Joel felt such contact to be inappropriate. "Joel believes, based on his conscience and faith, that girls should be treated with dignity and respect – taking nothing away from those two female athletes – but wrestling is a combat sport," Joel's dad explained. Joel is a refreshing ray of hope.
Some people take advantage of the snow. Here is what one dad made for his kids (only 80 hours of shoveling):
President Obama announced last week that he has decided to break his solemn oath to uphold the constitution and laws of the United States, although he omitted describing it that way. The president has decided, on his own, to no longer defend federal law defining marriage as a union between a man and a woman. This federal law will be no longer enforced, as if it was duly repealed by the legislature or overturned by the judiciary… which it was not.
At about the same time, his administration also announced that they will be breaking their promise to uphold conscience protections for healthcare professionals.
I suppose that he is doing these things now so that they will be "old news" during his re-election campaign. Maybe no one will notice with their attention on Libya, the failed economy, continuing joblessness and other issues. Both of these moves are immoral, probably illegal, and like so many of his other moves cause lasting harm. Very discouraging.
Narayanan Krishnan no longer has time to be an award-winning chef at a five-star hotel. Since 2002, he has responded to the plight of those who are forgotten and ignored on the edge of society. Watch his story here and read more about it here. Deacon Greg says "Grab a Kleenex. Then, take three minutes and see the face of God."
Happiness…
---
Some random thoughts or bits of information are worthy of sharing but don't warrant their own full post. This idea was started by Jennifer Fulwiler at Conversion Diary to address this blogging need. So, some Fridays I too participate when I have accumulated 7 worthy items. Thank you Jen for hosting this project!