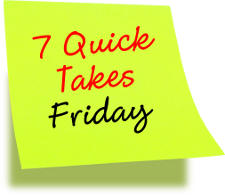 This week: The latest issue of New Evangelists Monthly awaits your perusal. Chris Stefanick explores the truth about YOU. Billy Kangas determines your Medieval vocation. Stephen Colbert talks about religion. Lutheran Satire asks if Christians and Muslims worship the same God? CollegeHumor envisions a church for those who are "spiritual, but not religious." Will Stephen gives a TEDx talk about absolutely nothing (but looks sharp doing it).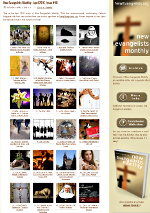 Issue #40, April 2016, of New Evangelists Monthly is ready for your enjoyment! Scores of faithful Catholic bloggers have contributed their very best pieces from March. Contributing authors this month include:
Virginia Lieto, Fr. Stephen Morris, Adam Crawford, Ellen Kolb, Dave Wanat, Susan Fox, Fr. John Paul Shea, Ellen Gable Hrkach, Birgit Jones, Mike Landry, Melanie Jean Juneau, Karee Santos, John Donaghy, Nancy Shuman, Laura Pearl, Christian LeBlanc, Lisa Laverty, Chris Capolino, David Cooney, Tony Agnesi, Robert Collins, Stephen Korsman, George Sipe, Kim Padan, John Schroeder, Kathleen Laplante, Barbara Szyszkiewicz, Dn. Scott Dodge, Rita Buettner, Leslie Klinger, Jennifer Short, Larry Peterson, Fr. Gilles Surprenant, Thomas and Deborah Richard, Reese Cumming, Fr. Conrad Saldanha, Roxane Salonen, Rich Maffeo, David Torkington, Carolyn Astfalk, Laura McAlister, Jamie Jo, Michael Seagriff, Rick Becker, Sr. Maresa Lilley, Sue Elvis, De Maria, David Wong, Fr. Richard DeLillio, Carissa Douglas, James Milliken, Jennifer Elia, Monica McConkey, Godwin Adadzie, Fr. Adrian Danker, Alexandrina Brant, Emily Davis, Lyn Mettler, Dn. Chris Anderson, Fr. Errol Fernandes, Barbara Hosbach, Joseph Shaw, W.L. Grayson, Justin Soutar, Kirby Hoberg, Jeff Walker, Bonnie Way, Larry T, Erin Cupp, Mary Nicewarner, Bartimaeus Timeo, Catherine Prady, Katie O'Keefe, Msgr. Charles Pope, Rick Rice, Dianna Kennedy, Tracy Smith, Melissa Overmyer, Frank Rega, Julian Barkin, Brian Gill, Joyce, Ruth Ann Pilney, Lianna Mueller, Anthony Layne, John Russell and Lisa Ponchak.
This monthly "meta-magazine" showcases faithful Catholicism from theology to family life and "everything in between." Enjoy it now at NewEvangelists.org.

Chris Stefanick asks "why don't you like yourself?" This is his new video on God's love:
Which Medieval Religious Order do you fit in? Billy Kangas has a fun, 8 question online Q&A thingy. I would not put a lot of trust into it and theorize that the answer will vary day-to-day based on your mood. Except, I keep getting told I would be a Benedictine… Give it a spin at his blog.
Stephen Colbert is an odd duck. That is, a Catholic duck, but an orthodox Catholic duck? It is really hard to tell, yet this is interesting:
Here is a question that has no definitive answer: "Do Christians and Muslims worship the same God?" If our conception of God is so extremely different, is it really the same God just understood differently? I would say not. The folks at Lutheran Satire also tackle the problem, answering it in about 10 seconds:
There is a weird class of person who describe themselves as "spiritual, but not religious." The folks at CollegeHumor (therefore WARNING: language at the end) imagine what a "church" might be like for them:
Those who value intellect (particularly their own) above all else (specifically God), are drawn to "TED" talks. What might slip by their piercing gaze and deep thought, is just how formulaic they are. Comedy writer Will Stephen noticed and to their credit, the TED folks allowed this:
---
Some random thoughts or bits of information are worthy of sharing but don't warrant their own full post. This idea was begun by Jennifer Fulwiler and is now continued by Kelly Mantoan. So, some Fridays I too participate when I have accumulated 7 worthy items. Thank you Kelly for hosting this project!