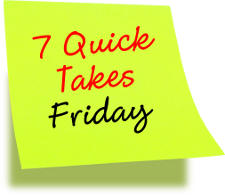 This week: The latest issue of New Evangelists Monthly awaits your perusal. The new Cinderella movies gets high marks from Father Barron. Typical, trashy dolls get a make-over into something desirable and appropriate. The Easter transformation of St. John Cantius in half-a-minute. The self-authored obituary of Emily Phillips. Science proves (and glorifies and exalts) God. Lutheran Satire pokes at atheistic arguments to the contrary.
Issue #28, April 2015, of New Evangelists Monthly is ready for your enjoyment! Scores of faithful Catholic bloggers have contributed their very best pieces from March. Contributing authors this month include: Virginia Lieto, Brantly Millegan, Monica McConkey, Birgit Jones, Rick Becker, Tracy Smith, Carolyn Astfalk, Ellen Kolb, Ellen Gable Hrkach, Nancy Shuman, Mike Landry, David Torkington, Adam Crawford, Matt Nelson, Ruth Curcuru, John Donaghy, George Sipe, Nancy Ward, Timothy McCormick, Michael Seagriff, Rakhi McCormick, Jenn Tatum, Anthony Layne, Robert Collins, Ebeth Weidner, Elizabeth Reardon, John Schroeder, David Wong, Matthew Plese, Lisa Ponchak, Rich Maffeo, Fr. Ben Hadrich, Larry Peterson, Sr. Margaret Obrovac, MC, Connie Rossini, Sarah Thèrése, Leslie Klinger, Drusilla, Tony Agnesi, Tom Perna, Fr. Chori Jonathin Seraiah, Chris Capolino, Dn. Scott Dodge, Ruth Ann Pilney, Shannon Vandaveer, Lyn Mettler, Blythe Kaufman, Melissa Overmyer, Jamie Jo, Rita Buettner, Elena, Melanie Jean Juneau, Lawrence and Susan Fox, Sr. Maresa Lilley, Jessica and Manny Archuleta, Debbie Gaudino, Larry T, Roxane Salonen, Fr. Tucker Cordani, Sara Boyle, Christian LeBlanc, Joe LaCombe, RJ, Gregory Watson, Barbara Hosbach, Joseph Shaw, Shannon Evans, Margaret Felice, Rose O'Donnell, Katie O'Keefe, Carolyn Smith, Lisa Laverty, Laura Pearl, Matt McCormick, Philip Kosloski, Bonnie Way, Jennifer Cerino, Jennifer Hansen, Heidi Knofczynski, Justin Soutar, Nicole Ernest, Dave Wanat, Barbara Szyszkiewicz, Emily Davis, Mallory Hoffman, Reese Cumming, Rick Rice, Cindy Hurla, Bartimaeus Timeo, Allen Hebert, Molly Oshatz, Amanda Rose, Rebecca LaBriola, Fr. Errol Fernandes, Msgr. Charles Pope, Shannon Ball and Fr. Adrian Danker.
This monthly "meta-magazine" showcases faithful Catholicism from theology to family life and "everything in between." Enjoy it now at NewEvangelists.org.
Father Barron finds many classic Christian themes in the new Cinderella movie. It sounds like a perfect movie for the whole family.
Unlike Cinderella, not everything is suitable for the whole family. Or even the targeted demographic – little girls. I am speaking of the trashy dolls manufacturers make. One lady began "fixing" them and the floodgates of demand have opened. Hopefully manufacturers will notice.
A transformation of the sanctuary must take place after Good Friday in preparation for Easter. Here St. John Cantius in Chicago collapses one such effort to about 30 seconds:
Emily Phillips has died. Beyond friends and family, few knew her. Many more know her now through her obituary – which she wrote.
It begins "It pains me to admit it, but apparently, I have passed away. Everyone told me it would happen one day but that's simply not something I wanted to hear, much less experience."
This is an excellent piece of writing, informative and funny. Read it HERE.
We Catholics do not see any conflict between science and God. Eric Metaxas, speaking for Prager University, quite correctly sees science speaking FOR God:
Speaking on the other side, we have atheists like Richard Dawkins. Here, the wacky dudes and dudettes at Lutheran Satire have fun with his poor arguments:
---
Some random thoughts or bits of information are worthy of sharing but don't warrant their own full post. This idea was begun by Jennifer Fulwiler and is now continued by Kelly Mantoan. So, some Fridays I too participate when I have accumulated 7 worthy items. Thank you Kelly for hosting this project!