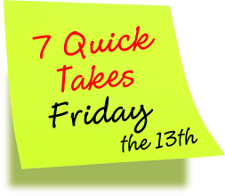 This week: The December issue of New Evangelists Monthly is ready and calling you. Why does God let us suffer? The Sacraments of Initiation explained like never before. Is evil rational? Fr. Barron describes his call to the priesthood. A close look at the "pro-life" exceptions for rape and incest. Obama: "whatever we once were, we are no longer a Christian nation."
Issue #12, December 2013, of New Evangelists Monthly is ready for your enjoyment! Scores of faithful Catholic bloggers have contributed their very best pieces from November. This month brought these great topics: aspiration, saved, O antiphons, armor, time, roof surfing, mom vocation, transformation, purgatory, forward, Advent, Thanksgiving, JFK+50, sinner, aborted cells, JPII Genesis, ridiculous, shine upon, decorating, Santa, labyrinth, golf, your mother, visiting, serving, emotions, resources, rosary kids, beauty, 1-in-3, my hero, old law, "Xmas," Wojtyla, tears, lamb, blood, the lapsed, planning, worm, thankful, creed, own worse, communing, Kevin Lee, prays together, one child, Heaven, Lewis, scenery, water and wine, cemetery, worldly, furthering, shared cup, beginning, truth, experience, bring Christ, saints, life addiction, household, selective memory, eternal, Catholicity, kingdom, loss, babababa ma, radio, 3 men, math/truth, women, Zacchaeus, marriage, we crooks, in us, monsters, beauty, examination, "ordinary," free will, future me, Geisha, interpreting, relating, dryness, Notre Dame, Christmas, mercy, authentic, good reads, know/love/serve and kiotsuke.
This monthly "meta-magazine" showcases faithful Catholicism from theology to family life and "everything in between." Enjoy it now at NewEvangelists.org.

Why does God let us suffer? Christopher Stefanick explores this topic:
Outside da Box explains the Sacraments of Initiation like you have never heard them explained before (trust me on this)!
Is evil rational? Dennis Prager takes a very rational look at it:
A "bell going off" is how Fr. Barron describes his initial call to the priesthood:
The only basis for the pro-life argument is the taking of an innocent human life is an intrinsic evil. Intrinsic evil is never justified. To compromise on this, believing the end justifies the means, does nothing less than strengthen the pro-abort position. Make no mistake about it, it is stepping away from truth (God). Such is the "rape and incest" abortion exception.
In this video, victims of rape and children born of rape discuss this issue. Listen to them.
Sometimes we forget who we are. Much of America has forgotten. In the case of President Obama, it is apparently a complete memory loss. To remember he need only take a short stroll around his (temporary) home.
Spotted by my friend Tom
---
Some random thoughts or bits of information are worthy of sharing but don't warrant their own full post. This idea was started by Jennifer Fulwiler at Conversion Diary to address this blogging need. So, some Fridays I too participate when I have accumulated 7 worthy items. Thank you Jen for hosting this project!