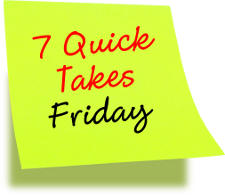 This week: The latest issue of New Evangelists Monthly awaits your perusal. Planned Parenthood's lucrative revenue stream in baby parts continues to thrive. Extreme Christian persecution happening right now in the Middle East. What the secular world offers as fill leaves God's children empty. The most important thing is for you to be on the right side of history (and accept what you are told that is). The youngest bookworm. A Benedictine monk, sunbathing atop a wind turbine.
Issue #33, September 2015, of New Evangelists Monthly is ready for your enjoyment! Scores of faithful Catholic bloggers have contributed their very best pieces from August. Contributing authors this month include: Virginia Lieto, Matthew Coffin, Kathleen Laplante, Shannon Ball, Rick Becker, Cindy Hurla, David Wong, Susan Fox, Phoebe Wise, Larry Fox, Adam Crawford, Tracy Smith, Nancy Shuman, Leti Adams, Ellen Gable Hrkach, John Shimek, Dn. Scott Dodge, Brantly Millegan, Margaret Felice, Godwin Adadzie, Connie Rossini, Monica McConkey, Birgit Jones, Dennis McGeehan, Elizabeth Reardon, David Cooney, David Torkington, Tony Agnesi, Roxane Salonen, Michael Seagriff, Molly Oshatz, Matthew Plese, Rich Maffeo, Joseph Shaw, Barbara Szyszkiewicz, Carolyn Astfalk, Lyn Mettler, Robert Collins, John Donaghy, Blythe Kaufman, Sr. Margaret Obrovac, Larry Peterson, Christian LeBlanc, Melanie Jean Juneau, Fr. Richard DeLillio, Rose O'Donnell, Vinny Carr, Brian Gill, Stephen Korsman, Denise Hunnell, Bonnie Way, Ellen Kolb, Allison Howell, Emily Hartung, Leslie Klinger, RJ Martin, Shannon Vandaveer, Tom Perna, Sr. Maresa Lilley, Fr. Adrian Danker, Reese Cumming, Sharon Babineau, Karee Santos, Lisa Ponchak, Celeste Ciarallo, Bartimaeus Timeo, Barbara Hosbach, Dave Wanat, John Schroeder, Justin Soutar, Stephanie Calis, Rita Buettner, Kirby Hoberg, Julian Barkin, George Sipe, Jeff Walker, Fr. Errol Fernandes, Larry T, Matthew Leonard, Msgr. Charles Pope, Chibuzor Ogamba, Laura Pearl, Jenn Tatum, Melissa Overmyer, Amy Parris, Andy McNutt and Matthew Rose.
This monthly "meta-magazine" showcases faithful Catholicism from theology to family life and "everything in between." Enjoy it now at NewEvangelists.org.

Pro-abortion politicians are outraged over the continuing releases of videos documenting Planned Parenthood's lucrative baby part business. They promise a thorough investigation and heads will roll. Not of PP of course, but of the non-profit who exposed it. PP on the other hand, will continue to receive the annual HALF BILLION taxpayer dollars for vital "women's reproductive health" services.
In the latest (9th) video, new horrors are revealed (intact fetuses "just fell out") while abortuary management receives "advisor fee" kickbacks. PP rakes in $60 for each body part. This is what Roe v. Wade has brought us.
Unspeakable persecution of large numbers of Christians continues unabated in the Middle East. Make no mistake, they are tortured, killed, enslaved and raped – including their children – by Muslims quoting their "holy books."
This is another issue the main stream media has chosen to hide. The Knights of Columbus hopes to raise awareness:
This is a glimpse of the secular ideal. It is a vacuous life, filled with activity yet devoid of meaning, purpose or true happiness. This is not what God wants for us.
Are you on the wrong side of history? You don't want to be in that boat! Jump into the one, you are told, is on the right side. Sail with the winners!
OK, everybody in the universe (4M anyway) has seen this already, but if you are a hermit you may have missed it. It is the saga of the "youngest bookworm." He obviously understands the importance of reading in early development!
Even more people (5M) have seen this video of Brother Joseph Byron, a Benedictine monk, relaxing atop the wind turbine that he maintains. The story is here.
---
Some random thoughts or bits of information are worthy of sharing but don't warrant their own full post. This idea was begun by Jennifer Fulwiler and is now continued by Kelly Mantoan. So, some Fridays I too participate when I have accumulated 7 worthy items. Thank you Kelly for hosting this project!