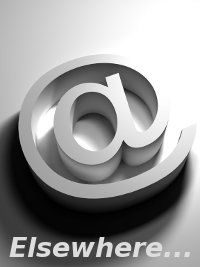 Steve Gershom is a faithful Catholic, witty, knowledgeable and interesting. He is also gay. Well, "gay" is a bit ambiguous. He is a young man (late twenties) who is attracted to other men. We call that same sex attraction. SSA, of itself, is NOT sinful.
God has created us all to live chaste lives, no exceptions. Sexual relations are properly ordered between a man and a woman in marriage, for unitive and procreative purposes. They strengthen the loving bond of marriage and (usually) bear a family as their happy fruit. Not everyone is called to the vocation of marriage. For those, living a chaste life means living a celibate life. Examples are priests, other religious men and women, consecrated virgins, single people everywhere and those with same sex attraction – like Steve.
Last summer, Leila Miller at Little Catholic Bubble asked Steve to write about so called "gay marriage". (BTW, Leila is a Catholic "revert". Her specifics are in my Convert Stories database.) Steve responded:
I have heard a lot about how mean the Church is, and how bigoted, because she opposes gay marriage. How badly she misunderstands gay people, and how hostile she is towards us. My gut reaction to such things is: Are you freaking kidding me? Are we even talking about the same church?

When I go to Confession, I sometimes mention the fact that I'm gay, to give the priest some context. (And to spare him some confusion: Did you say 'locker room'? What were you doing in the women's…oh.) I've always gotten one of two responses: either compassion, encouragement, and admiration, because the celibate life is difficult and profoundly counter-cultural; or nothing at all, not even a ripple, as if I had confessed eating too much on Thanksgiving.

Of the two responses, my ego prefers the first — who doesn't like thinking of themselves as some kind of hero? — but the second might make more sense. Being gay doesn't mean I'm special or extraordinary. It just means that my life is not always easy. (Surprise!) And as my friend J. said when I told him recently about my homosexuality, "I guess if it wasn't that, it would have been something else." Meaning that nobody lives without a burden of one kind or another. As Rabbi Abraham Heschel said: "The man who has not suffered, what can he possibly know, anyway?"

Where are all these bigoted Catholics I keep hearing about? When I told my family a year ago, not one of them responded with anything but love and understanding. Nobody acted like I had a disease. Nobody started treating me differently or looking at me funny. The same is true of every one of the Catholic friends that I've told. They love me for who I am.

Actually, the only time I get shock or disgust or disbelief, the only time I've noticed people treating me differently after I tell them, is when I tell someone who supports the gay lifestyle. Celibacy?? You must be some kind of freak.

Hooray for tolerance of different viewpoints. I'm grateful to gay activists for some things — making people people more aware of the prevalence of homosexuality, making homophobia less socially acceptable — but they also make it more difficult for me to be understood, to be accepted for who I am and what I believe. If I want open-mindedness, acceptance, and understanding, I look to Catholics.

Is it hard to be gay and Catholic? Yes, because like everybody, I sometimes want things that are not good for me. The Church doesn't let me have those things, not because she's mean, but because she's a good mother. If my son or daughter wanted to eat sand I'd tell them: that's not what eating is for; it won't nourish you; it will hurt you. Maybe my daughter has some kind of condition that makes her like sand better than food, but I still wouldn't let her eat it. Actually, if she was young or stubborn enough, I might not be able to reason with her — I might just have to make a rule against eating sand. Even if she thought I was mean.

So the Church doesn't oppose gay marriage because it's wrong; she opposes it because it's impossible, just as impossible as living on sand. The Church believes, and I believe, in a universe that means something, and in a God who made the universe — made men and women, designed sex and marriage from the ground up. In that universe, gay marriage doesn't make sense. It doesn't fit with the rest of the picture, and we're not about to throw out the rest of the picture.
There is more, so read the complete piece: Gay, Catholic, and Doing Fine. The (500) comments that follow it are interesting too.
Steve also has a blog. Check out SteveGershom.com. Note that Steve Gershom is a pseudonym (a sensible precaution considering the militancy of some in the "homosexual lifestyle").