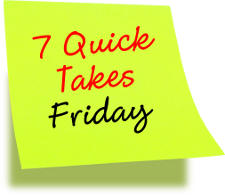 This week: Fr. Barron comments on Lumen Fidei. Catholic youth events beyond WYD. Jimmy Akin explains the "last judgment." What it is to hold the human heart. Information on Tom Peters and his recovery. Some amazing talent comes out of nowhere. Jumpy the dog does his stuff.
Father Barron speaks on the new Lumen Fidei encyclical (spoiler: he likes it).
World Youth Day is great, but insufficient. We need more local events for youth like the UK's Youth 2000 (August 22-26 this year):
Jimmy Akin answers "what is the last judgment?…"
God does not see as a mortal, who sees the appearance. The LORD looks into the heart.
The wise heart turns to the right; the foolish heart to the left.
Almost 2 weeks ago blogger Thomas Peters was seriously injured in a swimming accident. You may know this young man as the American Papist or from his excellent work with the National Organization for Marriage or CatholicVote.org. More information on Tom's status is on this special blog. Please pray for him.
So, a Puerto Rican, a Korean and a New Yorker meet on stage… but this is no joke! These three guys barely knew each other when they appeared on America's Got Talent. This is there very first performance, ever, anywhere:
This is the beautiful 1985 hymn Pie Jesu (Merciful Jesus) from the requiem Mass written by Andrew Lloyd Webber in memory of his father. I wonder if the judges had any idea what they were listening to. Spotted by Lawrencinium.
Jumpy the dog does his stuff…
Spotted by my friend Tom C.
---
Some random thoughts or bits of information are worthy of sharing but don't warrant their own full post. This idea was started by Jennifer Fulwiler at Conversion Diary to address this blogging need. So, some Fridays I too participate when I have accumulated 7 worthy items. Thank you Jen for hosting this project!