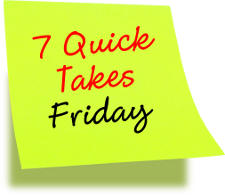 This week: An all-videos edition! Falling plates (you) and God. Young people making music with instruments built from trash. A very zombie holiday. A musical wedding flash mob. A Christmas flash mob. Andrew Klavan looks at the cronyism of the political class. Incredible computer generated animation and music.
You ("falling plates") and God…
Landfill Harmonic is an upcoming documentary about an orchestra from a remote Paraguayan village, where young musicians play with instruments made from trash.
A very zombie holiday…
Susanne and Sune Vibæk Svanekier were given a nice surprise at their wedding reception in a Copenhagen museum last May:
A (very good) Christmas flash mob (from 2 years ago)…
As we allegedly head for a "fiscal cliff," now is the perfect time for congress to pull together in a non-partisan rush to make some very bad decisions. At least we should be happy they are not deadlocked, right???
Andrew Klavan explains our most revered (by the political class) economic principle: cronyism.
Animusic does some incredible computer generated animations driven by and timed to computer generated music.
---
Some random thoughts or bits of information are worthy of sharing but don't warrant their own full post. This idea was started by Jennifer Fulwiler at Conversion Diary to address this blogging need. So, some Fridays I too participate when I have accumulated 7 worthy items. Thank you Jen for hosting this project!