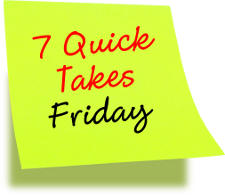 This week: The chain reaction of love. Planned Parenthood benefits when Kathleen Sebelius' AG shreds key documents supporting 107 criminal charges. What happened to one 9.9 ounce blob of tissue. Paralyzed at 13 by an accident, cured by another 13 years later. One genuine Catholic college. A sane analysis of the Occupy Wall Street thing. One candidate addresses the war on religion.
Mary DeTurris Poust wrote over at Our Sunday Visitor: "What moves you to change? Where do you need to be healed and where can you offer some healing? Take ten minutes to watch this powerful clip and see what feelings and thoughts it stirs up. We often don't think about the chain reaction of love we can set in motion through even the smallest kindness." I couldn't put it any better than that.
(This video is no longer available.)
Planned Parenthood of Kansas had 107 criminal charges against it, including 23 felonies involving cover-up of child rape. Pro-abortion Kathleen Sebelius appointed a new attorney general who destroyed the documents so that the case could not be prosecuted. Sebelius is now Obama's HHS head, forcing support for abortion and contraception every way possible.
LifeNews.com has more on this outrageous scandal.
In 1989, 27 week old Madeline Mann was born at 9.9 ounces. This is what that lump of cells, that blob of tissue, that fertilized egg, Madeline, looked like then and now:
Today Madeline is a happy, healthy, honors college student majoring in psychology. This item was spotted by Patrick at CMR.
Monique van der Vorst won two silver medals in the 2008 Beijing Paralympic Games for handcycling. She has been paralyzed since 13, losing the use of her legs. In training for the 2012 London Paralympics, she suffered a crash. It turned-out to be a blessing:
Genuine Catholic colleges still exist. Places that not only prepare students for their future but who also build, not destroy, their faith. One of them is the Wyoming Catholic College:
Professor Chris Coyne of George Mason University offers this brief, sane analysis of the Occupy Wall Street thing:
The current administration's war on freedom of religion is very real. The US Conference of Catholic Bishops is seriously concerned. I wrote about this in a previous 7QTF.
Would Rick Perry make a good president? I am not convinced, but he would at least stop our precipitous slide the current administration is taking us, including on freedom of religion. Being a founding principal and all, I bet you didn't think this was debatable.
---
Some random thoughts or bits of information are worthy of sharing but don't warrant their own full post. This idea was started by Jennifer Fulwiler at Conversion Diary to address this blogging need. So, some Fridays I too participate when I have accumulated 7 worthy items. Thank you Jen for hosting this project!