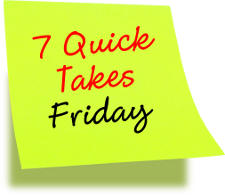 Some random thoughts or bits of information are worthy of sharing but don't warrant their own full post. This idea was started by Jennifer Fulwiler at Conversion Diary to address this blogging need. So, some Fridays I too participate when I have accumulated 7 worthy items. Without further ado:
Where do communion wafers come from? One source is the Passionist Monastery in Erlanger, Kentucky. Sister Mary Angela explains:
Speaking of nuns – Sister Mary Martha writes a wonderful blog, answering questions and explaining the faith with humor and plain talk. For example, in a post explaining the brown scapular, she said "Also, just because you won't see the fires of hell doesn't mean you won't do time in Purgatory. The good news is that part of the Pope's pronouncement states that scapular wearers will get out of Purgatory of the first Saturday after their death. So: Don't leave home without it. And……….Shoot for a Friday passing. There are many other types of Scapulars, though, and they come in different colors, like our national Terror Alert System, only useful."
Visit her blog at Ask Sister Mary Martha.
If you watch America's Got Talent, move on. If you are like me and never watch it then you have missed this little Catholic girl. Her name is Jackie Evancho and she is all of 10 years old. I stumble terribly with Latin, but not her. Previously she sang Panis Angelicus and Pie Jesu. Listen to her sing Ave Maria:
Todd over at The Catholic Sojourner has been writing his conversion story. He is one of the many Catholic converts listed in the Convert Stories database. It always amazes how inspiring these stories are. Read Todd's latest piece entitled A Miraculous Resuscitation. It is not short, but it is definitely worth the read (read it all, no skimming!).
CatholicVote.org put together this great video reminding us of our duty to vote in the upcoming election and what is at stake.
Today's quote:
The rights of man come not from the generosity of the state, but from the hand of God.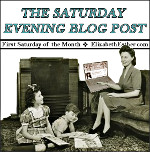 Elizabeth Esther kindly hosts a feature she calls The Saturday Evening Blog Post. Published monthly every first Saturday, it features the best post in the preceding month on each of a few dozen Christian blogs. The "best" entries are chosen by the authors themselves (so they should know!).
It is a great way to discover new blogs. Be sure to check-it out. My entry last month was the road trip of life.