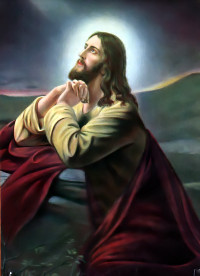 Guest contributor: Bruce Margine
As I attended Stations of the Cross during Lent – and as I listened and watched Father walk from Station to Station in the Church – I was recalling a few years ago walking the actual way of the Cross in Jerusalem. I've tried, probably like never before to enter into a closer relationship with my God, my Lord and my Savior. I'd like to continue this journey and invite you to come along.
Throughout recorded Biblical History, God was called by many names. In the Hebrew Scripture, there are 7 major names given for God and many others. Names like: Elohim, Yhwh, and Adonai.
Elohim – in Hebrew it is plural proper noun, not singular and this name for God appeared first in the Book of Genesis, in the Creation Story, and by this name for God, Elohim, we are also presented with a glimpse of what later would be understood as the Trinity, yet to be revealed.
YHWH – translated, I AM WHO I AM. To the Ancient Jewish People and the most religious of the Jewish people today, it is the most sacred of God's name, not to be uttered aloud. Instead they would say – HaShem, which means The Name. It is mysterious as God is mysterious and well beyond our human understanding. God revealed this name to Moses and one Jesus referenced to Himself during his earthly ministry, the Self Existent one.
ADONAI – In Hebrew it means Lord or Master.
The others are Jehovah Jireh – yir-eh' (The Lord will Provide); Jehovah Shalom (The Lord is Peace); Jehovah Rohi – r oh h ee (The Lord is my Shephard) and El Shaddia – El shah-DIE – (The Almighty God).
All these names define attributes of God. God's power, God's majesty. However, it was Jesus, who gave God a new name thereby presenting God in a totally different light, and with very different attributes in addition to those revealed in the Hebrew Scriptures. Jesus taught us to call God – Father. Throughout all of history, no god, lower case g or God, upper case G – is God ever referred to as Father until Jesus revealed this to us.
Across the Kindron Valley from the Old City of Jerusalem, on the Mount of Olives lies a cave. Tradition has it that this cave area is where Jesus often taught his disciples and it has come to be known as the place where Jesus, as revealed by two of four Evangelists, Matthew and Luke, share with us Jesus' teaching of how we should pray to God, the Lord's Prayer, a prayer to Our Father. Since the 300 AD, various Churches have been erected and destroyed over this site. And, today, over this site of the cave sits a Church, Pater Nostra and inscribed on the walls inside and out, and in the outdoor garden is the Lord's Prayer in over 60 different languages.
When I stood there and look to the West you look across the Kidron Valley back to Jerusalem and see Temple Mount within the ancient walls of the city prominent today with the Gold Dome of the Rock, one of the holiest sites in Islam. But in the time of Jesus and His disciples they would have clearly seen the Temple, the bellowing smoke from the continual burnt offerings of animals and birds by the Priests. While we don't know for sure exactly where Jesus taught His disciples the Lord's Prayer, standing there, I got a sense of, a strong feeling of the interconnection between Heaven and Earth, an eschatological bridge, if you will. My soul, my body, my life, my death, my judgment and the end time…
So, let me recommend that you please sit back, close your eyes, if you are comfortable doing that, and together let us reflect on the prayer and move beyond the words we just said together that Jesus taught us…
Our Father,
O Lord, You are our Father. You belong to all, even though there are times when I feel you are mine alone. We all feel that way, I suppose, it is the way a child feels toward his earthly father.
You have made us, and we belong to You – the Father, the Creator, the awesome Power of the universe. When we suffer, we cry to You to soothe our pain. When we know great joy, we turn to You in praise. When we seek advice, we share with You our secrets. And so, You are always the beginning of our prayer.
Who art in heaven,
Where is heaven, Lord? Is it above? When we were young, we were taught to look up when praying to You. Should we look elsewhere, Lord? Should we look around us to find heaven? Should we look within"
Heaven is where the saints and angels are, O, Lord, ready for You to send them to help us. We see the things You have made and therefore know where You have been and what You have touched. Heaven is with You, O Lord. I pray that I will always be close to You, until one day, by Your mercy, I join You – because I cannot imagine life without You.
Hallowed be Your Name,
"Praise the Name of the Lord, for it is good." The psalmist has said it best. Your name is sacred, Lord, and should be uttered only with awe and reverence. When we consider something sacred, we hold it tenderly and dearly, close to our hearts. It becomes for us the most precious thing in the world… So is Your Name, Lord – most beautiful, most sacred, most sublime.
Your kingdom come,
Lord, one day this world with all its problems and difficulties will pass away, and all those who have lived will live again forever. A never ending day will dawn when there will be no sickness – or death – when evil will end forever.
On that day we will see things plainly and be in Your presence eternally. We cannot know when that day may be, Lord. Give us the grace to be ready when it comes.
Your will be done, on earth as it is in heaven,
Why is it so difficult to remember that You are in charge, Lord? You always have been and always will be. Why do we act as if we are in charge? What do we control that is of real significance? Do we control the elements? Can we make a blade of grass grow? Can we make the birds sing? Can we give life to an embryo, or take the soul into our hands when death beckons"
God, help me to put my life back into Your most capable hands. And when I pray, help me not to tell You what to do. Can I tell You how to run the universe? You know what is best. You know our needs even before we ask. Please forgive us when we forget this, O Lord.
Give us this day our daily bread.
Give us only what we need today, Lord. You, better than anyone else, know what we need at any given time. One day it may be bread itself, another day it might be the bread of spiritual nourishment satisfying our hungry soul like manna in the desert. One day we may need guidance, one day, compassion, but always we need Your love.
My daily bread is nothing without Your love, O Lord, for it is Your love that truly gives me life.
And forgive us our trespasses as we forgive those who trespass against us.
How can we ask for Your forgiveness, Lord, if we cannot forgive others? Yet we do it all the time! We say, "Lord, please forgive the wrong I have done, I didn't mean it, I will never do it again." At the same time, however, we carry a grudge against someone who caused us pain. If You can forgive us, Lord, when we have caused You pain, why can we not forgive another"
You have told us that we must become like You – in every respect. There can be no room in heaven for those who cannot forgive. If we do not love, we are not Your disciples. Help us to learn, Lord, that forgiving is easier than hating and not forgiving. And Lord, as we forgive others, help us to forgive ourselves as well.
And lead is not into temptation,
It is all around us Lord – so much to turn us astray, so much to distract us, so much to lead us away from You. We know better than to follow these temptations, but sometimes we find it difficult to obey You. When temptations present themselves, we often wander off Your path. We are great justifies, finding excuses for our sins. We need strength, Lord, to keep to Your path. Shield me, I pray, from every temptation, that I may walk according to Your will and not my own.
But Deliver us from the evil one.
Evil does exist, Lord, I know, for I have seen its ugliness. I have seen how it can twist truth and deceive. I have witnessed how it destroys. Deliver me, O Lord, from the snares of such a horrific spirit. Enter my soul, Lord, for You alone are invited to dwell within me. I am Yours, Lord, and on bended knee I ask You to remain with me. Guard my soul as Your Angel guarded the entrance to the Garden of Eden. Stand at the end of the road so that I may see Your Light and not fear the darkness that surrounds me. Evil can flourish only when we fail to listen to You, when we hear the evil one instead. But deliver me from him, O Lord, now and always – and especially when I leave this world, that I may be delivered straight to You, O Loving and Holy and All-forgiving Father.
For Yours is the Kingdom, and the Power, and the Glory
The only true kingdom is Your Kingdom. You are the Power, the Energy, the Life Force. It is because of You all Creation lives and breathes. We humbly kneel before You, our God, for all the glory we could possibly ever offer is Yours. "The heavens declare Your glory," and so do we, dear God.
Now and forever…
"Forever" is a concept impossible for us to comprehend, Lord. We can grasp only the finite. For us, all things must end, but not for You. You were, are and always will be. How awesome as thought! You are eternal and give each of us the opportunity to spend eternity with You. Help me to remember that the steps to eternity begin now. And guide my footsteps, O, Lord, that day by day I may follow the path that leads to You.
And now, my brothers and sisters, we end our prayer with our affirmation, our declaration, our solemn ratification by praying together – Amen