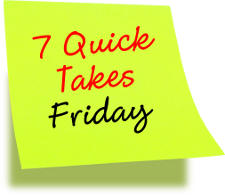 This week: A powerful video: If I wanted America to fail. Father Z takes us on a trip down memory lane with the Leadership Conference of Women Religious. The Mississippi governor nails it. What a post-ObamaCare world will look like. Wheelchairs are so 20th century. Federal debt is an enormous social justice issue. A quote of the week.
Hope and change. Not my hope and not my desire to "fundamentally change America":
Catholic women religious are, and always have been, outstanding examples of service to the Church. HOWEVER, some among them – particularly their leadership – are seriously heterodox. They have repeatedly taken positions in opposition to the teaching of the Gospel and have rejected the authority of Christ's Church. The scandal this caused has done real damage.
This is finally being addressed in a respectful and sensitive manner. Father Zuhlsdorf assembled a compilation of incidents to remind us why this action is necessary: Nuns Gone Wild: A Trip Down Memory Lane.
Mississippi governor Phil Bryant recently signed into law a bill requiring physicians performing surgical abortions to be board certified and have admitting privileges at a hospital. Yes, this is a pro-life law (Planned Parenthood is "sick about" it). It also protects the women receiving surgical abortions.
On a radio talk show, he opines that the left – enamored with women's health – should rush to support this bill. Gov. Bryant bluntly explains why they don't:
Supporting his view of their hypocrisy, we see in California the pro-abortion lobby pushed for (update: and achieved) *less* protection in not requiring a doctor AT ALL. The left will have to update their mantra that the "choice" is between a woman and her doctor to "abortion practitioner". Planned Parenthood thinks this is a dandy idea.
With ObamaCare gone, either by judicial or legislative remedies, what happens to healthcare? Ricardo Alonso-Zaldivar suggests in a recent piece – The next health care overhaul? Look to employers – the probable positive outcomes. Worth a read.
Wheelchairs are so 20th century.
The crushing impact of federal debt on the economy, the resulting impact on families and the burden placed on our children is an extremely serious social justice issue. This graphic sums up our free-fall from prosperity:
In the coming months, you will be *ceaselessly* bombarded by class-warfare advertisements, backed by biased, liberal media to question if Mitt Romney has too much money. It is a ridiculous distraction.
Quote of the week:
Deconstructing one of President Obama's speeches can be a bit like taking a trip to an alternate universe.
---
Some random thoughts or bits of information are worthy of sharing but don't warrant their own full post. This idea was started by Jennifer Fulwiler at Conversion Diary to address this blogging need. So, some Fridays I too participate when I have accumulated 7 worthy items. Thank you Jen for hosting this project!